Update: August 4, 2016
We have a new version of the
Elgato Game Capture HD
software that should solve this issue.
You can download version
3.20.26
from our website:
Fix for YouTube Login Issue - 3.20.26
This build should resolve the issue that is described in the remainder of this article. Thus, if you have the symptoms that are described below, try
3.20.26
.
---
As of August 2016, a
YouTube
login problem has started with
Elgato Game Capture HD
software.
In the Live Streaming section, customers are told that they need to use a new browser to login to
YouTube
. They will see a window from Google that looks like this, which says "Your browser is not supported anymore. Please update to a more recent one."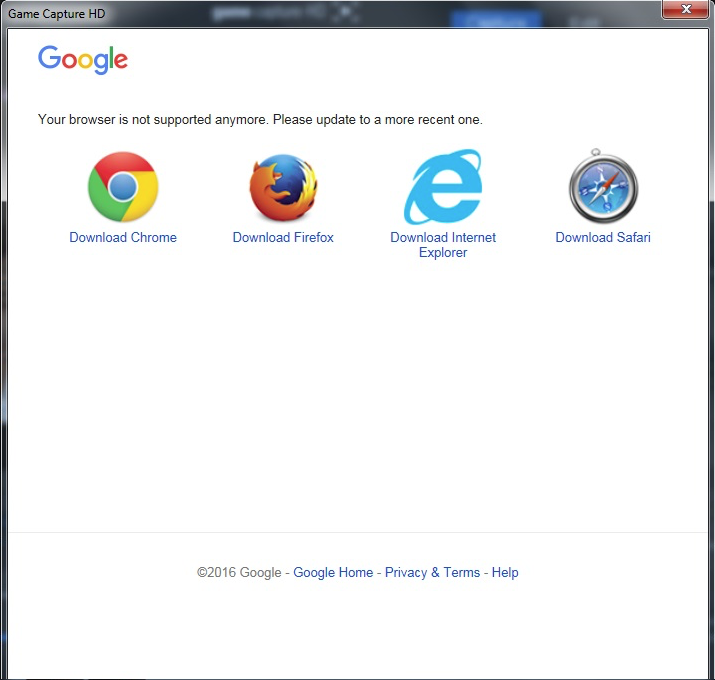 This is a problem that affects the
Elgato Game Capture HD
software. You do not need to download a new web browser - that will not help.
We are currently researching what exact versions of Windows this affects. It may affect various installations of Windows 7, 8 and 10, but we will need to do more testing with all OS versions to make sure.
This problem affects:
Elgato Game Capture HD
Elgato Game Capture HD60
Elgato Game Capture HD60 S
Elgato Game Capture HD60 Pro
Due to this problem, many Elgato Gaming customers using Windows will temporarily not be able to log into
YouTube
, for uploading video, or for streaming.
We are working now with
YouTube
to understand the nature of the problem, and to formulate a very quick fix.
Once a solution has been prepared, we will let all Elgato Gaming customers know via this article.
Thank you for your patience while we resolve this important issue.