Here are the changes in Control Center 1.1.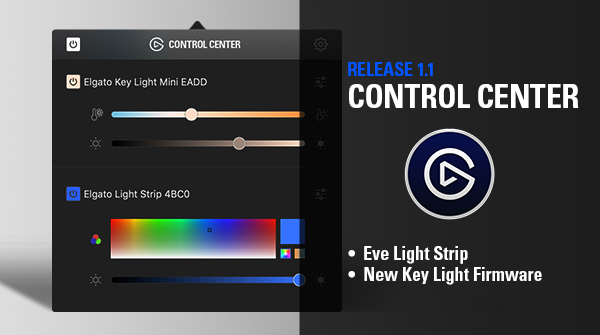 You can download Control Center 1.1 by clicking on the links below.
macOS
Windows

Device support for Eve Light Strip
Shine online, anywhere, anytime. Edge-lit with multi-layer diffusion technology, powered by battery or mains, Key Light Mini makes you look amazing from the studio to the street. Mount on a tripod or metal surface thanks to a ¼-inch thread and built-in magnet. Adjust brightness and color temperature via the onboard controls or app on iPhone, Android, Mac, or PC. With Key Light Mini, everywhere is the perfect place to create.
New firmware for Key Light
Firmware version 1.0.3 (192) brings with it a welcome quality of life update.
With this firmware update, when the name of Key Light is changed, that name is stored on Key Light itself, and will be shown across all devices. For example, if you change the name of Key Light in Control Center on Windows, the new name will automatically appear on other Windows computers, as well as in Control Center on iOS and macOS.
New translation
Added translations for several languages (Chinese, Danish, Dutch, English, French, German, Italian, Japanese, Korean, Portuguese, Russian, Spanish, Swedish)
Improvements and bug fixes
Device support for Eve Light Strip
Control Center will now notify you when a recommended firmware update is available for Key Light
Devices with an available firmware update will now show a blue icon in the main window.
The main window would open in a strange place on screen, which was annoying. We've fixed that.
Release notes for software updates scale to the perfect size on high DPI displays.
Integration with Stream Deck has been enhanced.
Overall improvements.
Learn more about Eve Light Strip here.