Here are the changes in Control Center 1.3.1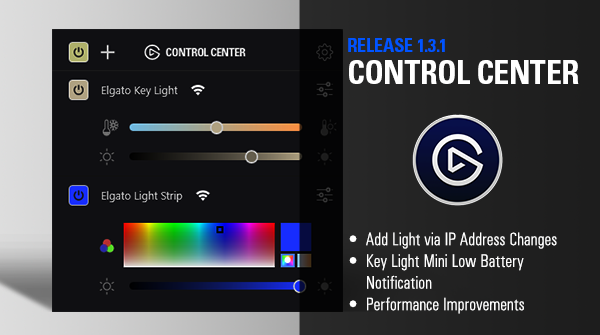 You can download Control Center 1.3.1 by clicking on the links below.
Windows
What's new in Control Center Windows 1.3.1.
This is a maintenance update and focuses on bug fixes and performance improvements.
Accessories can now be added to Control Center via IP address when the computer is connected by means of Ethernet without a Wi-Fi adapter present.
A notification will alert you when the battery in Key Light Mini is running low.
You can disable notifications for low battery notifications as well as accessory firmware updates.
Added logging for when Wi-Fi signal strength falls below an acceptable threshold to help our support teams with troubleshooting connection issues.
Various stability improvements for the pairing process.