Update: 29 September 2022
Stream Deck 5.3.3 added OBS Studio 28 compatibility and is now available at elgato.com/downloads.
This guide goes over installing the Stream Deck plugin for OBS Studio 28.
OBS Studio 28 is a major update that also changed the underlying plugin framework, requiring updates to all existing OBS Studio plugins, including the Elgato Stream Deck plugin.
We are working towards rolling out this update via an auto update to everyone; in the meantime, the OBS Studio 28 compatible plugin must be manually installed following the instructions below.
The updated plugin is compatible with:
OBS Studio 27
OBS Studio 28 (Including Apple Silicon)
---
How to install OBS Studio 28 compatible Stream Deck plugin
---
The steps below will update the Stream Deck plugin which communicates with OBS, and the Stream Deck OBS Studio plugin.
1) if OBS Studio is open, please close OBS Studio.
2) Download the plugin installer for your operating system by clicking on the link below:
3) Run the installer file.
4. Next, download the OBS Studio plugin version 2.0.3 for Stream Deck
5) Double-click the com.elgato.obsstudio.streamDeckPlugin file to install the plugin into Stream Deck.
6) Stream Deck will ask if you want to install a plugin downloaded from the internet. Select 'Install'
7) Now launch OBS Studio.
---
Troubleshooting
---
Stream Deck does not connect to OBS Studio
If Stream Deck does not immediately connect to OBS Studio, quit and restart the Stream Deck application.
'Plugin Load Error Message' Appears After Installation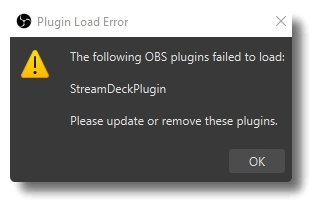 If you still see the warning that the Stream Deck plugin is not compatible, the old incompatible plugin may not have been removed. Your Stream Deck will still function as normal since the new plugin is installed.
To remove the warning, navigate to where OBS Studio is installed, then to the plugins folder and delete the file called StreamDeckPlugin.dll and StreamDeckPlugin.pdb.
Windows default plugin location: C:\Program Files\obs-studio\obs-plugins\64bit\
Note: This location may be different if you installed OBS Studio somewhere else.
"com.elgato.OBSStudio cannot be installed on this machine"
If you encounter this error while installing the Stream Deck OBS plugin, please follow these steps:
1. On the right-hand side in the action list, expand the OBS Studio plugin category.
2. Right-click on any action and select 'Uninstall...'
3. Now double click on com.elgato.obsstudio.streamDeckPlugin to install the plugin.