Here are the changes in Elgato Camera Hub 1.5.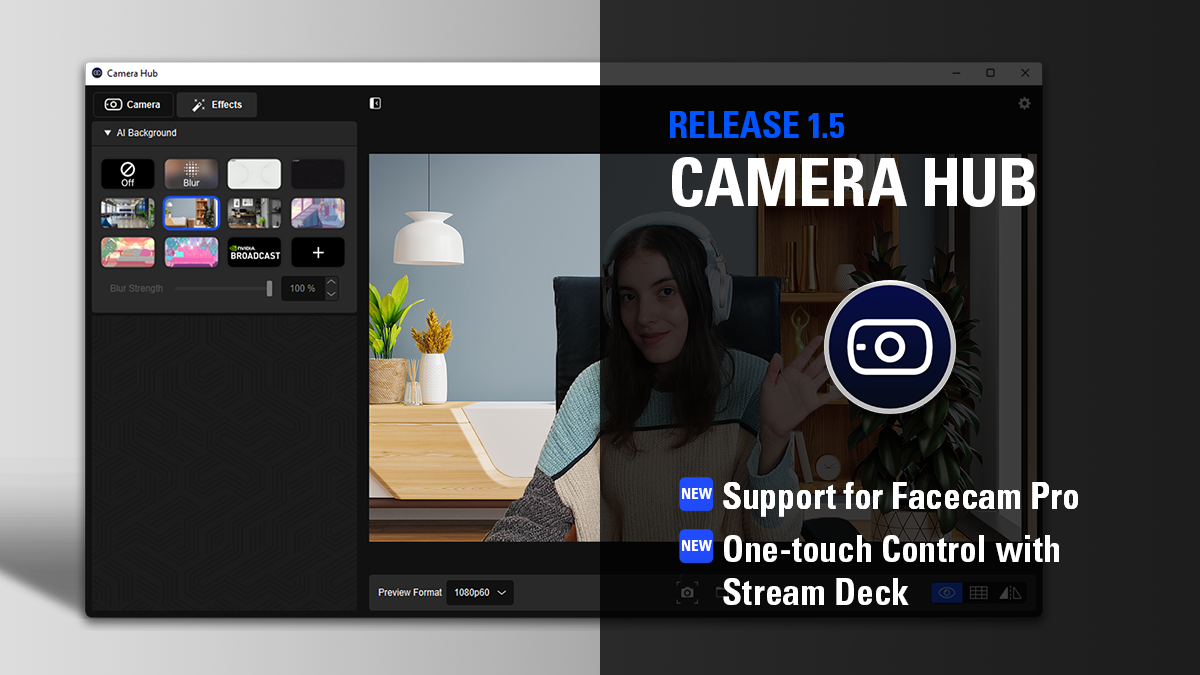 You can download Camera Hub 1.5 by clicking on the links below.
macOS
Windows
What's new in Camera Hub 1.5?
📷 Meet Facecam Pro - The world's first 4K60 webcam.
Next-level optics and a large area SONY® sensor for ultra-detailed 4K60 video. Powerful software to dial in your perfect shot with ease. Manual or autofocus, cinematic effects, and more. Plus onboard camera memory that keeps you looking sharp every time you go live. Make no mistake – Facecam Pro is a massive leap in webcam technology.


Facecam Pro highlights:
True 4K60 UHD: 2160p resolution at a fluid 60 fps.
Elgato Premium Autofocus Lens: f/2.0 21 mm* studio-quality optics.
Large Area SONY® STARVIS™ Sensor: powerful low-light performance.
Up to 90-Degree Field of View: capture surroundings or entire team.
Variable Focus: set focus manually or select autofocus.
Cinematic Effects: pan, tilt, or crop and zoom while maintaining excellent image quality.
Advanced Image Engine: processes maximum data at high speed.
Camera Hub App: set ISO, shutter speed, contrast, and more.
Elgato Flash Memory: set and forget your video settings.
Seamless Mounting: robust monitor clamp with a 1/4-inch thread.
Learn more about Facecam Pro.
🆕 Support for Facecam Pro
This update adds support for Facecam Pro.
Control PTZ (pan, tilt, zoom) settings. Configure up to four PTZ presets for cinematic switching.

Click and hold on the selected preset until a save icon appears to store the configured values.

Automatic or manual focus settings, and distance presets.

Fine-tune shutter speed, ISO, color temperature, and more.
🆕 One-touch control with Stream Deck
Stream Deck integration with Camera Hub is now available. After updating to Camera Hub 1.5, head over to the Stream Deck store and get the plugin.
Take snapshots, adjust shutter speed and ISO, trigger PTZ presets for Facecam Pro, and much more.
Requires a Stream Deck* device or Stream Deck Mobile app*
Do you have Stream Deck? Install the Camera Hub Plugin.
🛠️ General changes
Zoom has been changed to percentage value, with FOV as the secondary value while moving slider.
The application has been renamed to 'Elgato Camera Hub' to make it easier to find among installed applications.