Release Date
: 10 November 2022
Here are the changes in Wave Link 1.6.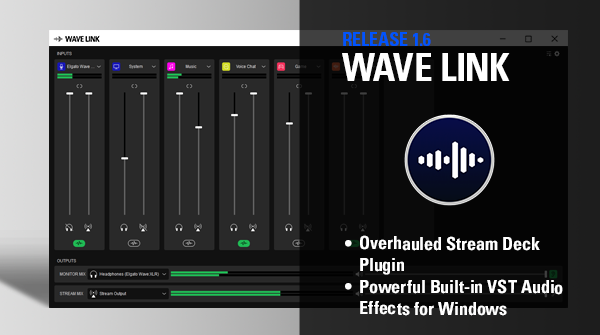 You can download Elgato Wave link 1.6 by clicking on the links below.
Windows
macOS
What's new in Wave Link 1.6?
🆕 The Stream Deck Plugin Got a Glow Up
If you use Stream Deck to control Wave Link, you're going to love your plugin's new look and feel.
Whereas all Wave Link actions previously appeared in the actions list, they are now merged into four actions — Input Actions, Output Actions, Hardware Actions, and Effect Actions. This makes it much easier to customize your Stream Deck for Wave Link.
Hardware Actions is home to Wave device features like Clipguard and Gain.
Effect Actions can be set to toggle individual effects or an entire effects chain.
We've also added new icons, and get this — some actions can now be displayed as faders across multiple Stream Deck keys!
If you're already set up with Stream Deck, you needn't lift a finger. Your Wave Link plugin will be updated automatically.
Don't have the Wave Link plugin yet? Get it here from the Stream Deck store.
📢 Powerful Effects Built In (Windows)
In case you missed it, we've created our own VST audio effects to help you sound pro with ease. No downloads or installations necessary. Elgato Audio Effects are now built right in.
Elgato Equalizer — sculpt your signature sound.
Elgato Noise Removal — let mighty AI tidy up your mic feed.
NVIDIA Broadcast Noise Removal by Elgato — clean audio powered by NVIDIA AI
Requires NVIDIA RTX 20-series or newer GPU.