Here are the changes in Stream Deck 6.0.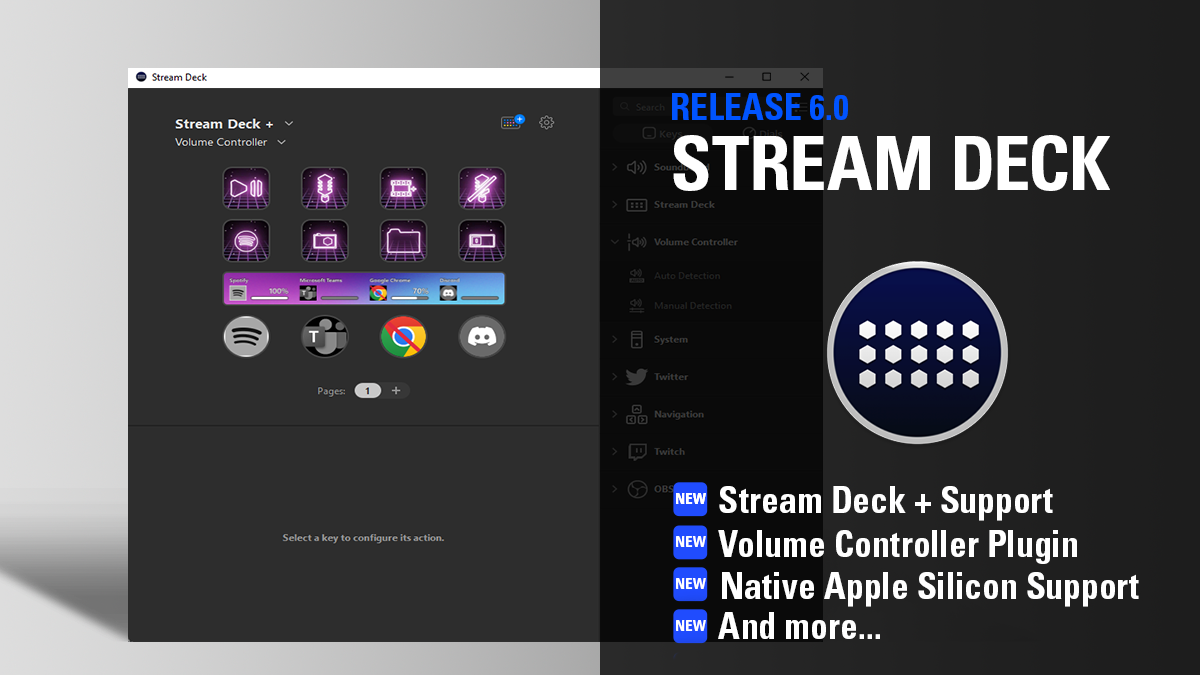 You can download Stream Deck 6.0 by clicking on the links below.
Release Date: 15 November 2022
macOS
Windows
What's new in Stream Deck 6.0?
This might be our longest list of new features and changes yet, so let's dive in!
🆕 Introducing Stream Deck +
Iconic Stream Deck tech with customizable LCD keys, dials, and touch strip.
Learn more about Stream Deck +
🆕 Volume Controller Plugin
Easily control volume levels of individual applications on your Windows machine.
Volume Controller is installed with Stream Deck 6.0 and works with all Stream Deck devices.
Download the Volume Controller plugin here.
🔁 Plugin Updates for Stream Deck + Dials
Camera Hub, Wave Link, Control Center, Hotkeys, and the brand-new Volume Controller all support dial actions now.
Zoom with Facecam Pro, tweak audio levels, adjust lights, control Photoshop brush size, and much more.
Plugin updates are automatically installed from the Stream Deck store.
📌 Overhauled Icons
Icons for many actions and plugins have received a fresh coat of paint. Additionally, stylized faders — spanning two keys that display current levels — have been added for Camera Hub and Wave Link.
📃 Streamlined Actions List
Some actions are now grouped in categories for easier discoverability.
💻 Native Apple Silicon Support
It's here — Stream Deck is now a native Apple Silicon binary.
📺 High DPI Support on Windows
By updating the core of Stream Deck, we've introduced high-DPI support that keeps Stream Deck looking razor-sharp and perfectly scaled on high-resolution displays.
🎨 Animated WEBP Support
Action icons now support animated webp images alongside GIFs. Animated webp files are higher quality and use less CPU.
🛠️ General Changes
Removed legacy Game Capture software integration.
The macOS minimum OS requirement is now macOS 10.15 Catalina.
Improved handling of misbehaving or crashing plugins.
When dragging an action around, you will now see it under the mouse cursor.
Multi Actions have alternating colored rows for improved readability.
Many bug fixes and under-the-hood improvements.