Release Date
: 21 December 2022
Here are the changes in Wave Link 1.6.2.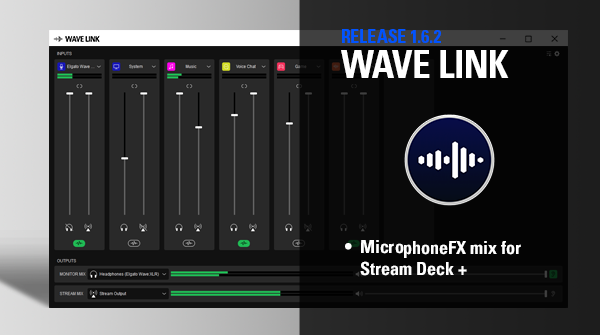 You can download Elgato Wave link 1.6.2 by clicking on the link below.
Windows
What's new in Wave Link 1.6.2?
🆕 MicrophoneFX mix for Stream Deck +
Use VST audio effects in any voice chat application! This update adds the MicrophoneFX output mix for those of you who use Stream Deck + with Wave Link.
MicrophoneFX is a special audio output that combines only your microphone-audio-applied VST effects.
Watch the video below or read here to learn more about using MicrophoneFX in apps like Zoom, Microsoft Teams, or Discord.
MicrophoneFX is also available for Wave:1, Wave:3, Wave:XLR, and Corsair Voyager laptop.