Release Date: 09 February 2023
Here are the changes in Stream Deck 6.0.3.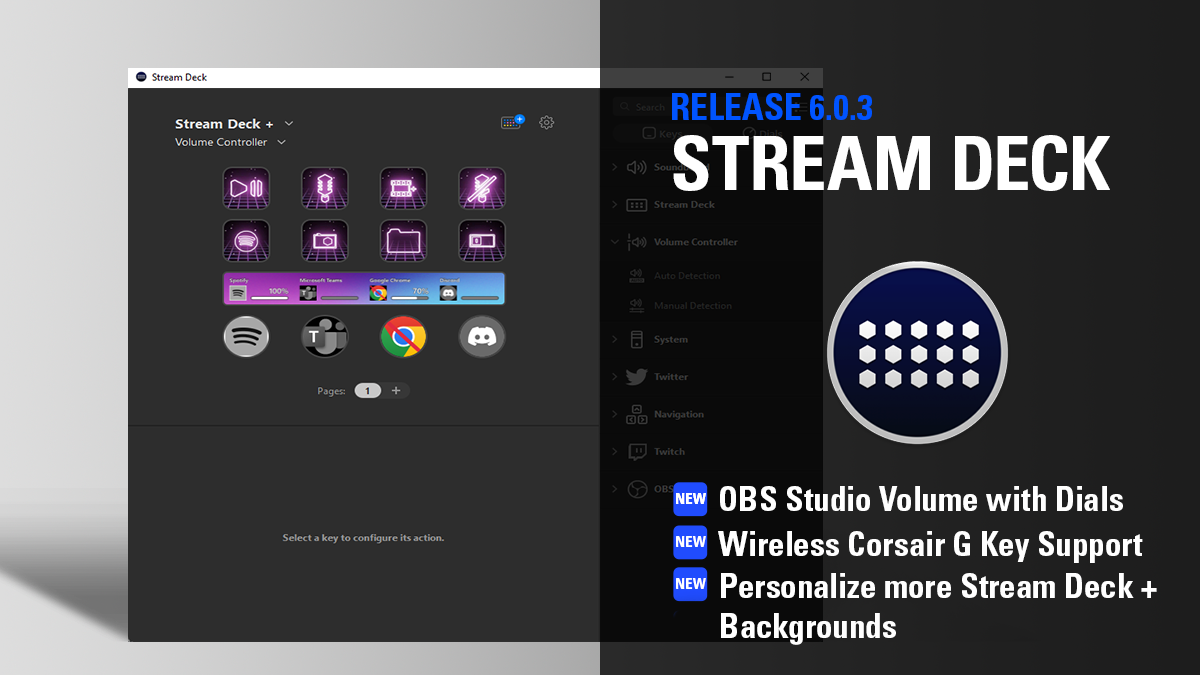 A hotfix was release for 6.0.3. For a list of changes and download links click here.
What's new in Stream Deck 6.0.3?
⚠️ Twitch Account Authentication
To ensure continued compatibility with Twitch, after installing this update, your Twitch account will automatically re-log into Twitch. If you are logged in to Twitch in your browser already, you don't need to log in again. In some cases, you may be required to enter your Twitch username and password.
If you have multiple Twitch accounts added, the login window may keep re-appearing. Please delete the additional Twitch accounts from Stream Deck and re-add them. You do not need to reconfigure actions that used the re-added accounts.
View Additional details and troubleshooting steps.
🔈 Control OBS Studio volume with dials
Adjust your OBS audio source volume, now using Stream Deck + dials. If you have the OBS Studio plugin already installed, you'll find the new action under Dials.
We can guess your next question and, yes, volume control for keys is coming in a future update.
⌨️ Wireless Corsair G key support
Go wireless with your Corsair keyboard and use G key Stream Deck integration, no cables needed. We've also improved the detection of Corsair keyboards with G keys within the Stream Deck app.
Note: Requires Corsair iCUE 4.32.129 or later and iCUE must be running in the background.
View list of supported keyboards.
🖼️ Personalize more Stream Deck + backgrounds
We've heard your feedback about more customization for touch strip backgrounds. Now you can assign a unique background for each folder and each page!
Note: If a folder or page does not have a custom background set, it will use the profile's default background.
Learn more about setting custom backgrounds.
🛠️ Performance improvements and bug fixes
Increased app responsiveness when many animated icons are in use.
Fixed a bug where icons are lost if a profile is moved from Windows to macOS.
Fixed a bug where missing icons might display pink.
Fixed a Volume Controller plugin bug where the log file size grows larger than expected.
Fixed an issue that could cause some Stream Deck profiles to corrupt while saving.
---
Want to share feedback on Stream Deck 6.0.3? Connect with us: