Release Date: 13 March 2023
Here are the changes in Stream Deck 6.1.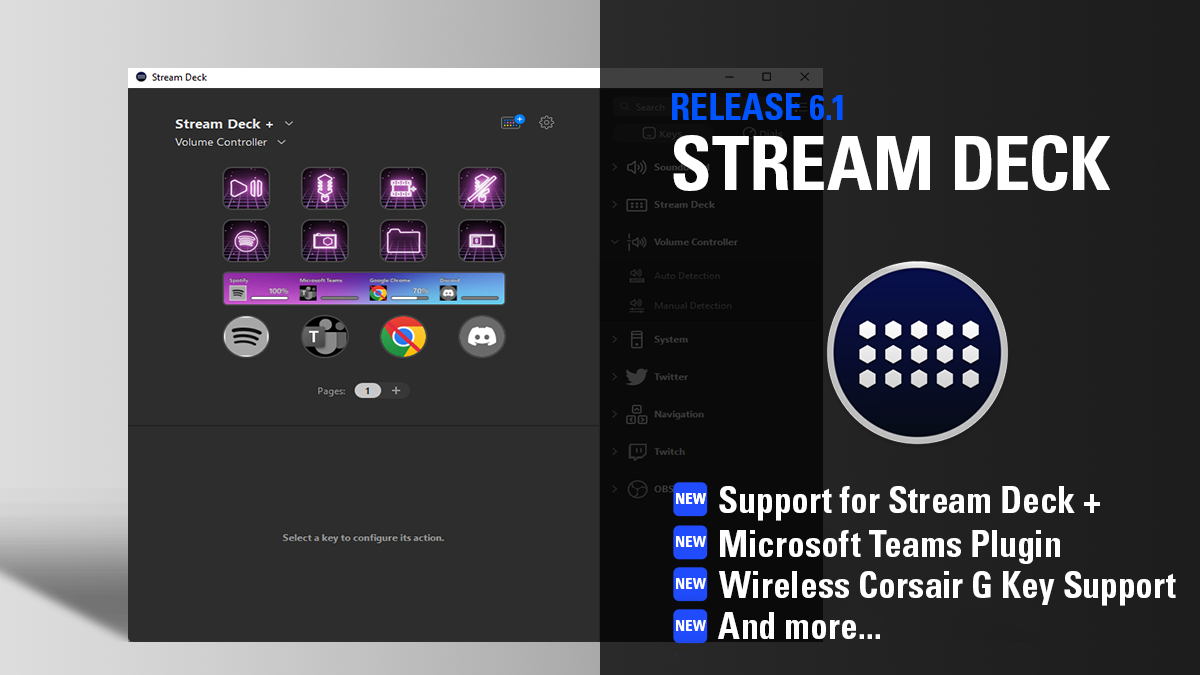 You can download Stream Deck 6.1 by clicking on the links below.
macOS
Windows
What's new in Stream Deck 6.1?
ℹ️ Before we get into the details of this feature-packed update, here's a reminder of how to create a backup of your Stream Deck profiles.
Open Stream Deck preferences.
Select the profiles tab.
At the bottom of the window open the profile options.
Select Backup All, then Create backup...
Give the backup a name and select the save location.
View detailed step-by-step guide.
🆕 Support for Stream Deck +
Iconic Stream Deck tech with customizable LCD keys, dials, and touch strip.
Learn more about Stream Deck +.
🆕 Volume Controller Plugin
Easily control volume levels of individual applications on your Windows machine.
Volume Controller is installed with Stream Deck 6.1 and works with all Stream Deck devices.
Download the Volume Controller plugin here.
🔁 Plugin Updates for Stream Deck + Dials
Camera Hub, Wave Link, Control Center, Hotkeys, and the brand-new Volume Controller all support dial actions now.
Zoom with Facecam Pro, tweak audio levels, adjust lights, control Photoshop brush size, and much more.
Plugin updates are automatically installed from the Stream Deck store.
🗣️ Microsoft Teams Plugin
Control your microphone and camera, or even send a reaction in chat. This makes managing your Teams sessions a breeze.
Watch the plugin spotlight video.
⌨️ Wireless Corsair G key support
Go wireless with your Corsair keyboard and use G key Stream Deck integration, no cables needed. We've also improved the detection of Corsair keyboards with G keys within the Stream Deck app.
Note: Requires Corsair iCUE 4.32.129 or later and iCUE must be running in the background.
View list of supported keyboards.
📌 Overhauled Icons
Icons for many built-in actions and Elgato plugins have received a fresh coat of paint. Additionally, stylized faders — spanning two keys that display current levels — have been added for Camera Hub and Wave Link.
🎞️ OBS Studio plugin update 2.2
Stream Deck 6.1 includes a new OBS Studio plugin that's chock-full of new features, listed below.
🔈 Control OBS Studio volume with dials
Adjust your OBS audio source volume, now using Stream Deck + dials. If you have the OBS Studio plugin already installed, you'll find the new action under Dials.
🔊 Expanded Volume control with keys
In addition to controlling volume with dials, you can now control source volume with keys.
Set Volume: Tap the key to set the source volume to a preset volume
Adjust Volume: Tap the key to increase or decrease the source volume based on the selected step size. Set up two keys to create virtual faders.
Mute now includes new modes — Push-to-Talk and Push-To-Mute.
⏱️ Media Source Time Counter
The Media Source Control action now includes options to show media source playback time.
Show nothing
Show count up
Show count down
Note: To display count up or down, the property inspector's title field must be empty.
🆕 Virtual Camera Action
Toggle the virtual camera on or off. That's it. Simple yet effective.
🆕Profile Action
Quickly switch between streaming and recording, or different resolution, frame rate, and destination presets. This action will change the active profile to the selected profile.
This action works when no encoding is active (streaming, recording ,or virtual camera)
📌 General Improvements:
The Source Visibility action will now update the icon based on the source type to make actions more glanceable.
Actions like Source visibility, Filter, Scene, and others automatically apply the selected item name to the key.
To use your own title and stop auto naming, simply enter your own text in the title field
To display nothing on the key, enter a single space in the title
Actions where an item can be selected — such as scene, source, profile, etc. — now track when the item is renamed
Transition and Preview to Program have been renamed to align with their functionality and name in OBS.
Transition -> Scene Transition
Preview To Program -> Transition
💜 Twitch Plugin 1.8 Update
Shield mode is now available as an action. Once set up, tap the key to instantly turn on shield mode in the event of a hate raid.
The Stream Marker action now lets you enter a description. These appear in the Twitch VOD timeline. Create multiple marker actions for different moments to easily find them after your stream is done.
💻 Native Apple Silicon Support
It's here — Stream Deck is now a native Apple Silicon binary and optimized for M1/M2 Macs.
✅ Disable Multi Action Green Check
Added a checkbox in Preferences to disable the green checkmark for Multi Actions.
With this option disabled, nothing will be shown on the key when executing a Multi Action.
🎨 Animated WEBP Support
Action icons now support animated webp images alongside GIFs. Animated webp files are higher quality and use less CPU.
📃 Streamlined Actions List
Some actions are now grouped in categories for easier discoverability.
🛠️ Performance improvements & bug fixes
Added a link to help articles in Settings>General.
Moved device-related preferences into a new Settings>Devices tab.
The account login verification page has been beautifully redesigned, and includes a new button to take you right back to Stream Deck after logging in.
(Windows) Dragging a shortcut onto a key now properly applies the shortcut icon to the key.
Squished a bug where the profile backup included the file extension twice.
Whacked another bug where, when setting an icon from the Icon Library, the off state would appear empty. The dimmed icon is now visible.
Windows High DPI support: By updating the core of Stream Deck, we've introduced high-DPI support that keeps Stream Deck looking razor-sharp and perfectly scaled on high-resolution displays.
When dragging an action around, you will now see it under the mouse cursor.