Release Date
: 21 March 2023
Here are the changes in Wave Link 1.7.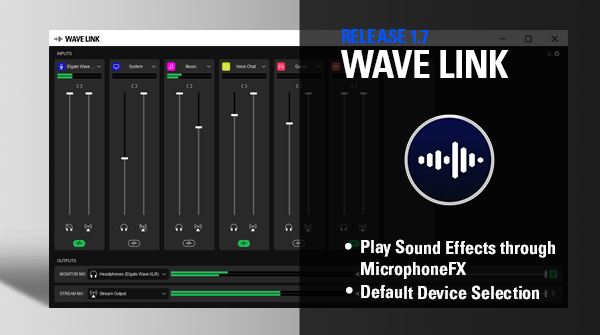 You can download Elgato Wave link 1.7 by clicking on the link below.
Windows
What's new in Wave Link 1.7?
🆕 Play Sound Effects through MicrophoneFX
Using a soundboard is easier than ever. In the Wave Link SFX channel, you'll find a new Route To MicrophoneFX option. When enabled, all audio going into the SFX channel will be routed to MicrophoneFX.
To add sound board SFX to your voice in real-time, simply select MicrophoneFX as the input in Discord, OBS Studio, your game, etc.
Learn how to set up your soundboard.
🆕 Default Device Selection
We've also made switching between different speakers, headsets, and other monitoring devices much easier. Just set Wave Link to output to your default Windows device, and your monitor mix will play through it. Then, when you change your default Windows device, your monitor mix will be routed accordingly.
🛠️ Performance improvements & Bug fixes
The Wave Link Stream Deck plugin has been updated with options to toggle Wave Gain Lock and Hardware Mute.
Fixed an issue where Stream Deck + dial actions would break after turning on or restarting your computer.
Crushed a bug that caused some input devices, such as capture cards and microphones, to echo or distort.