Stream Deck Mobile 2.0 is an app for iOS devices that allows you to control your streaming software, multimedia applications, and other tools. This guide will cover the features and setting up your Stream Deck Mobile.
Contents
---
Requirements
---
Software
iOS Version
---
First-time setup with Stream Deck Mobile
---
1) Download the Stream Deck app on your PC or Mac from elgato.com/downloads and open the application.
2) Within the Stream Deck app, go to the device dropdown and select "Add Mobile Device."
3) Follow the on-screen steps on your mobile device to pair it with your computer over the same Wi-Fi network.
Note: Your computer and iOS device must be connected to the same network. If your computer is not appearing on the list, check if you're running the most up-to-date version of Stream Deck, Stream Deck Mobile, and iOS.
---
Can I use Stream Deck Mobile without a computer?
---
No, Stream Deck Mobile requires a computer with the Stream Deck desktop app installed to function properly.
The Stream Deck desktop software on your computer controls all the actions and profiles, making it an essential component for the mobile app to operate seamlessly.
---
What are the benefits of upgrading to Stream Deck Mobile Pro?
---
By upgrading to Stream Deck Mobile Pro, you gain access to the following additional features:
Customizable Virtual Faceplates
Expanded Key Capacity
Keypad Layout Customization
Wallpapers for Key Customization
Note: Free Stream Deck Mobile users can access six customizable keys without any Pro subscription required.
---
Creating actions for Stream Deck Mobile
---
1) In the Stream Deck app, select the profile to which you want to add actions. Profiles are listed near the top left corner.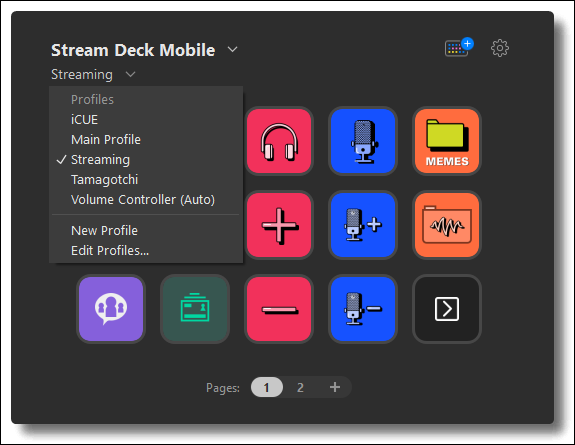 2) select your mobile device from the drop-down list if you have another Stream Deck.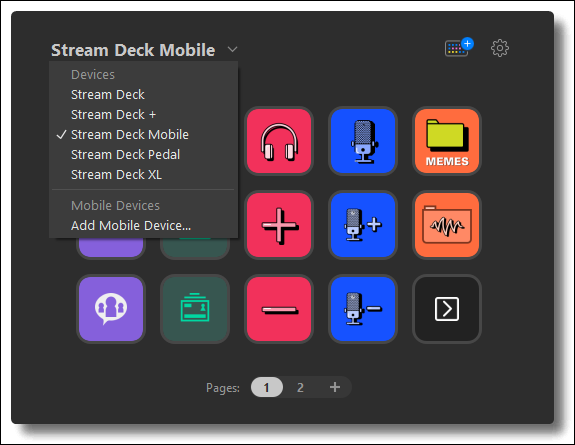 3) To add an action from the action list, drag and drop any action to a key.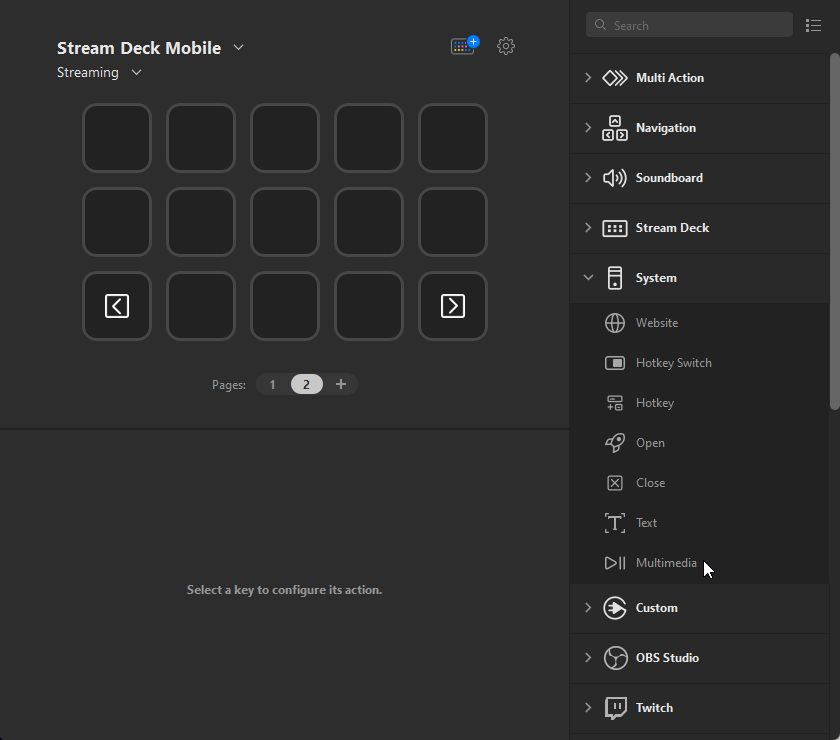 For more information regarding actions with Stream Deck, check out our guide here.
---
Can I import/export existing Stream Deck profiles into Stream Deck Mobile?
---
If you already have Stream Deck profiles on your computer, you can copy them to Stream Deck Mobile.
Check out our guide here for more information on backup and restoring profiles.
---
Can I use multiple devices with Stream Deck Mobile?
---
Absolutely! You can use multiple iOS devices with Stream Deck Mobile. Sign in with the same iOS account on each device, and your configurations and settings will sync.