Release Date: 17 October 2023
Here are the changes in Elgato Camera Hub 1.8.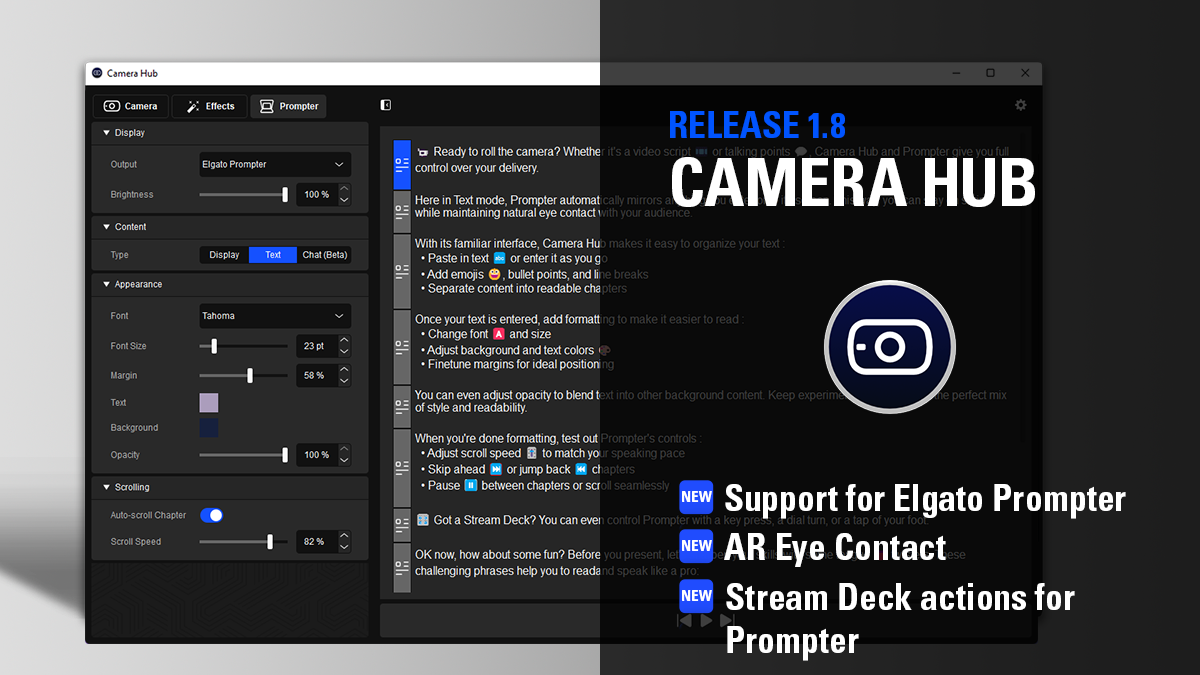 You can download Camera Hub 1.8 by clicking on the link below.
Windows
macOS
What's new in Camera Hub 1.8?
🆕 Elgato Prompter Support
Attached to a camera or webcam, Prompter helps connect you to your audience with natural eye contact. It's powered by your computer and mirrors scripts, stream chat, or any window you drag and drop onto its built-in screen.
In the new Prompter tab, switch between three control modes:
Text mode: Style and format your script, organize content into chapters, manage scroll speed, and more.
Chat mode: Connect your Twitch channel, then customize chat appearance so you never miss a message.
Display mode: Like an extra monitor, Prompter automatically mirrors any app, file, or browser you move onto its screen.
Is your camera compatible with Prompter? Check out the complete list of supported devices and lenses, with more added daily.
⌨️ Stream Deck actions for Prompter
This update adds various actions for controlling Prompter with Stream Deck:
Control: Play/Pause text or jump to a section or the latest chat message.
Display Settings: Adjust Prompters display brightness.
Content Settings: Switch between different scripts or Twitch channel chats.
Appearance Settings: Adjust font size, margin, and opacity.
Scrolling Settings: Change the text scroll speed.
Whether it's a push of a key or a dial turn, there are so many ways to control Prompter with Stream Deck.
Already have the Camera Hub plugin? If you haven't yet, update your Stream Deck app to version 6.4 or later. Once you do, your plugin will automatically update to display these new actions.
Don't have the plugin yet? Get it on Marketplace.
👀 AR Eye Contact
"Here's to looking at you." Harness the power of your NVIDIA RTX GPU to simulate eye contact. Using augmented reality (AR) effects, Camera Hub redirects your gaze automatically. To your audience, you'll always be looking directly at the camera — even when you're watching your display, reacting to the latest chat message, or reading a script.
AR Eye Contact requires an NVIDIA RTX 2060 or better GPU.
🛠️ Bug fixes and performance improvements
The minimum required NVIDIA GeForce driver and Video Effects SDK have been updated. Using background blur and eye contact requires GeForce driver 537.58 or newer and Video Effects SDK 0.7.2 or newer. Get the driver here and Video Effects SDK here.
Fixed a bug in which video appeared in a quarter of the preview when AI background effects were turned on.