Release Date: 26 October 2023
Here are the changes in Stream Deck 6.4.1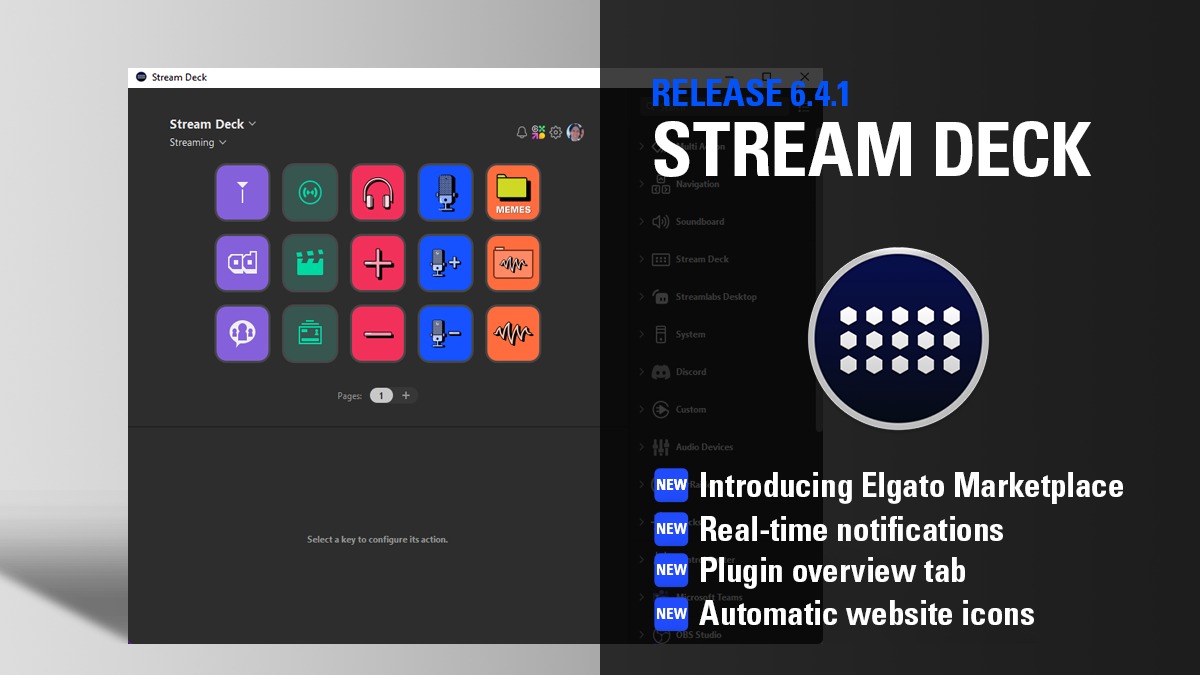 You can download Stream Deck 6.4 by clicking on the links below.
macOS
Windows
What's new in Stream Deck 6.4?
Welcome to Stream Deck's biggest update since the release of Stream Deck 5.0. This release is full of new features and improvements you'll love.
🏪 Introducing Elgato Marketplace
Marketplace reimagines and replaces the Stream Deck App Store experience you know. Discover new ways to personalize your device and express yourself with plugins, profiles, icons, and more. Explore thousands of digital assets, made by a diverse community of verified Makers. With a Marketplace account, assets install seamlessly to your Stream Deck app, making setup even easier.
Learn more about Marketplace or get started exploring now.
🔁 Real-time notifications
Track your asset downloads and receive notifications once they're successfully installed. Stream Deck will also alert you whenever one of your digital products is updated.
Pro tip: To start using a newly-installed asset, select it in your Notifications panel.
🛠️ Plugin overview tab
Review your installed plugins, including their version number, description, and helpful links. You can even choose your update preference—automatic or manual—for each plugin.
⌨️ Automatic website icons
The website action now automatically uses the target URL's favicon image as a default icon.
🛠️ Performance improvements and bug fixes
Removed Twitter "X" integration: It is no longer possible to Tweet or change your display name, due to changes in the X API. We are exploring new ways to return this functionality back to Stream Deck.
New default icons: We added two new icon packs, making out-of-the-box customization even easier.
Fixed a bug preventing the Corsair iCUE plugin from installing correctly.
More bug fixes than you can count.


The following are bug fixes and improvements added in Stream Deck 6.4.1:
Fixed an issue where multiple layers of text or images were rendered on top of each other for key actions.
Fixed an issue where adding or loading a YouTube account could crash the app.
An issue where title font styles would not work for some languages was resolved.
The Marketplace account avatar now updates correctly.
Plugins with auto-update disabled stay disabled after Stream Deck app restart.