This guide covers troubleshooting steps if your Prompter displays a blank screen or no image at all.
---
No Image or Display Appearing on Prompter
---
If you encounter a blank or incorrect display on your Prompter, please follow these troubleshooting steps to resolve the issue:
1) Close Camera Hub completely. To close it, navigate to your system tray or menu bar and right-click it.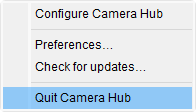 2) Update the DisplayLink driver from Synaptics' official website.
3) Once the latest driver is installed, restart your computer.
After your computer restarts, launch the Camera Hub and check the Prompter's display. If you continue having issues with the display, please get in touch with our customer support team here.