There are some Windows
Internet Security Applications
which replace system network components by their own protocols in order to monitor and redirect network/internet traffic.
A very common application which modifies the system network components is
Lavasoft's Web Companion (
http://www.webcompanion.com/
) .
Web Companion
does this in order to protect the system against suspicious web sites.
Other vendors offer similar applications that provide the same protection.
The modifications done by these applications are not compatible with
Stream Command
webpage overlays and will cause
Elgato Game Capture HD
software crash.
To prevent such crashes,
Elgato Game Capture HD
software for Windows version 3.5 (and above) will warn you if the network protocol has been replaced (e.g. by
Web Companion
).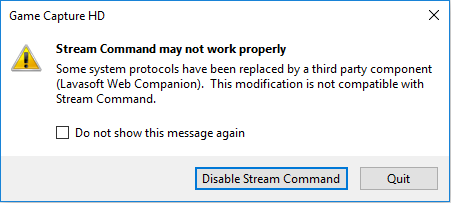 ---
Disabling Stream Command
---
When you press the
Disable Stream Command
button,
Elgato Game Capture HD
will automatically turn off
Stream Command
in the
Capture
section of the
Preferences
.
If you want to turn
Stream Command
on again, you can easily do so via the
Preferences
.
---
Uninstalling Internet Security Applications
---
Instead of disabling the useful
Stream Command
tool, you can instead uninstall the
Internet Security Application
or other software that is causing the conflict.
Please contact the manufacturer of that application for more assistance, if necessary.