When you add an action, you can give it a special Title. By default, the Title is blank. However, you can customize it to whatever you like.

---
Title Font Settings

---
To adjust your custom title, select the text icon near the end of the title field. This will bring up the font settings, allowing you to customize the appearance of your title to your liking.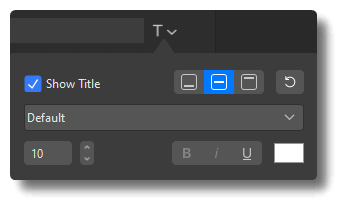 Alignment
The title will appear on the icon, and you can choose whether it will be overlaid on the top, middle, or bottom.

If your Action has two toggle states for icons, you can link the titles so you don't have to type in two separate titles. Instead, you can select the link icon to associate the same title with both toggle states.