This guide goes over the differences between HDR and SDR, what HDR tonemapping is and which Elgato devices have onboard HDR tonemapping.
Contents:
---
What is Tonemapping?
---
High Dynamic Range (HDR) allows for more vibrant and realistic colors in images by utilizing a wider range of brightness levels and a broader color spectrum. This is possible thanks to the advanced capabilities of modern televisions, which have higher contrast ratios—meaning they can display deeper blacks and brighter whites—and an expanded palette of colors.
However, when HDR content needs to be shown on Standard Dynamic Range (SDR) displays, which don't support this wide range of color and brightness, we encounter a problem. As of now, there are no standardized methods for converting HDR to SDR, which can operate within more limited ranges of color and brightness.
This conversion process is known as Tonemapping. It involves the use of complex algorithms, which are sets of step-by-step computational instructions, to translate the extended range of an HDR image into the narrower range of an SDR image while attempting to preserve the original's appearance as closely as possible.
If we were to simply discard any colors or brightness levels from the HDR image that the SDR display can't handle, the resulting image would look washed out and lack depth. To avoid this, tonemapping tries to balance the highlights and shadows in a way that retains detail. For example, if we reduce the brightness to preserve details in the highlights like the sun, shadows may become too dark. Conversely, if we brighten the shadows to retain their detail, the brighter areas might appear too light and lose their detail.
The 4K Capture Utility uses a popular tonemapping algorithm designed to maintain the integrity of the original image as much as possible. However, some differences between the HDR source and the SDR result are inevitable.
---
Devices with onboard HDR to SDR tonemapping
---
These devices have tonemapping hardware built-in, meaning they can convert an incoming HDR signal to SDR before sending the signal to the computer and software.
Elgato HD60 S+
Elgato HD60 X
Elgato 4K60 Pro MK.2
This is a visual representation of what occurs during onboard HDR to SDR tonemapping.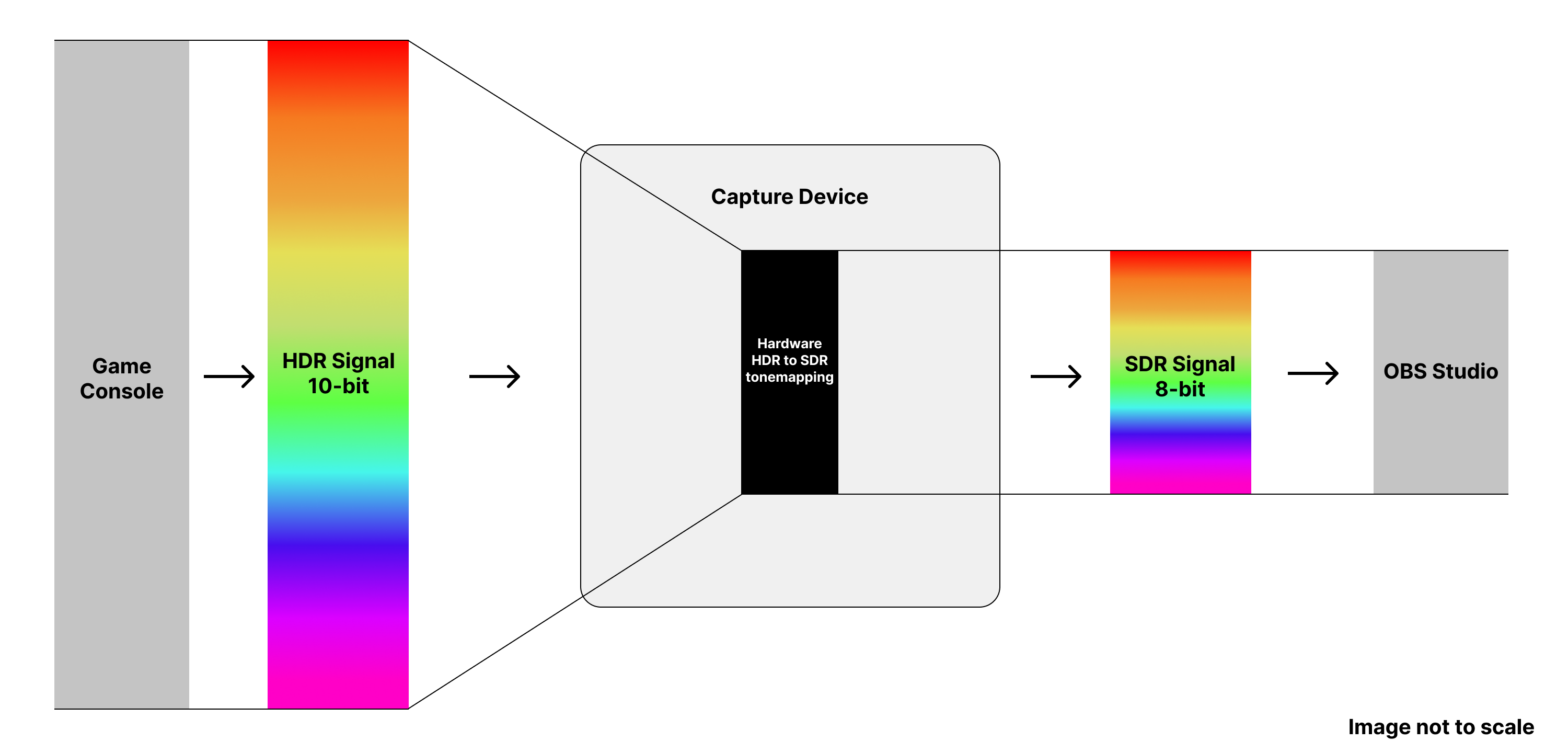 ---
Devices without onboard HDR to SDR tonemapping
---
These devices can capture an HDR signal but are not able to convert it to SDR.
Elgato 4K60 Pro MK.1 (With HDR passthrough)
Elgato 4K60 S+
This is a visual representation of what occurs during onboard HDR to SDR tonemapping.
Stream Link should be used to convert the HDR video to SDR. Click here to learn more about Stream Link. OBS Studio can also tonemap HDR video to SDR. Check out this excellent video guide by EposVox.