Elgato Game Capture HD60 S
captures raw HD video, and passes it on to your computer to be displayed, encoded, streamed and recorded. Raw HD video places high demands on your entire Mac and its components.
Elgato Game Capture HD60 S
relies on both the CPU and graphics card as well as high-speed USB 3.0 transmission for real-time stability.
This article explains how to optimize your Mac and peripherals for maximum performance. Peformance-related symptoms such as frame loss occur if your system is not performing optimally, or the Mac is below the stated System Requirements:
• macOS 10.11 El Capitan (or newer)
• 4th generation quad core Intel Core i5 CPU (i5-4xxx or comparable), or better
• 4 GB RAM, built-in USB 3.0 port
---
Frame Loss
---
Symptom: If Elgato Game Capture HD60 S is receiving fewer frames than expected, then it will display a warning message. First, a yellow icon will appear, listing the lower frame rate. You can click on that icon for more information.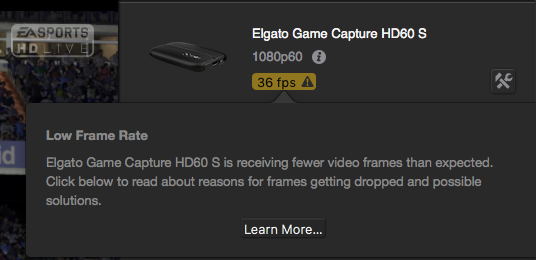 Once you have verified that your processor meets the system requirements, ensure your CPU is as free as possible and not busy with other tasks.
· Close other programs that may be using the CPU.
· If you have not restarted your computer in a while, now would be a good time to do so.
· Try turning off or pausing background services such as file sharing, Time Machine and Spotlight indexing.
---
Hardware and Software Encoding
---
To save video to your hard drive, and to stream it to Twitch or YouTube, the Elgato Game Capture software needs to encode the raw video using the H.264 video compression standard.
The software has the option of either using hardware or software encoding, depending on what Mac you are using. It is always preferred to use hardware encoding as the CPU load is vastly reduced. Hardware encoding uses the graphics card, or the graphics processor in Intel integrated CPUs.
If hardware encoding is not available, then you will see a message that says "Video is currently encoded using a software encoder".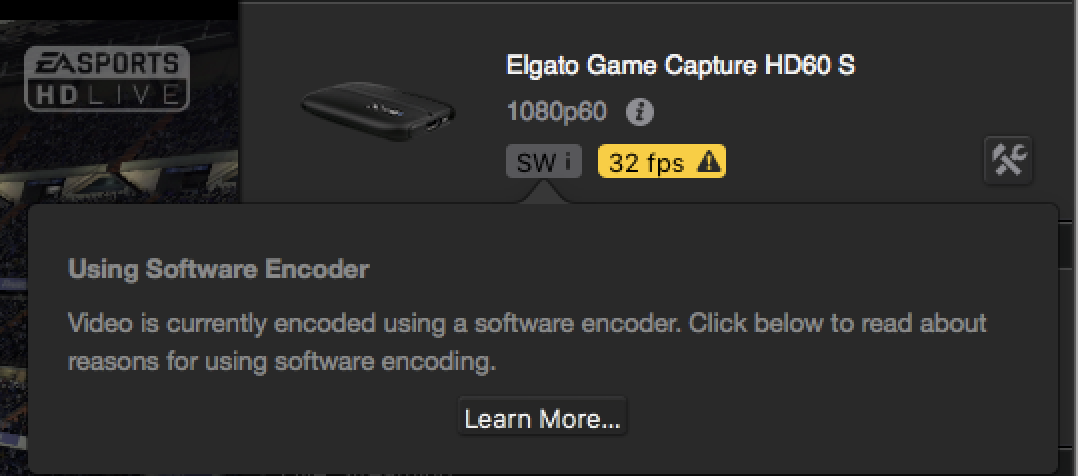 All Macs having a i5 or i7 processor are capable of hardware encoding. The newer the processor generation, the better it will be at hardware encoding. We recommend a 4th generation i5 or i7 processor, or newer.

However, there could be cases where the hardware encoder is not available. An example of this would be when another app is using hardware encoding already, like when QuickTime or Final Cut is exporting a movie or recording the screen. Try quitting all other apps, then quit and relaunch the Game Capture software to see if it can access hardware encoding.

There are some other factors that also influence whether the graphics card or graphics processor is available to the Game Capture software, including connecting an additional screen.

If the hardware encoder is not available, then the Game Capture software falls back to using software encoding, based on the x264 open source encoder. Because the CPU has to work very hard during the encoding process, using the x264 software to encode1080p60 when using Elgato Game Capture HD60 S is not possible – the CPU will overheat.
---
Optimizing USB 3.x Performance
---
If you try to connect
Elgato Game Capture HD60 S
to an USB 2.0 controller, then you'll see an error message – a USB 3 port is absolutely required. Even if your Mac has USB 3.x ports, check that there is no USB 2.0 hub in between the capture device and your Mac.
Transmitting raw 1080p60 video from
Elgato Game Capture HD60 S
requires around 2 Gbps of USB 3.0 bandwidth, which is slightly less than half of the USB 3.0 theoretical bandwidth of 5 Gbps. Even slight hiccups in the available data rate on your computer's USB bus will affect
Elgato Game Capture HD60 S
and cause frame drops.
For best performance, connect
Elgato Game Capture HD60 S
directly to a built-in USB 3.x port on your Mac, remove as many other USB devices such as printers, scanners, and hubs. Some USB 3.x ports on your Mac perform better than others, so you may want to try all the ports available.