Elgato Game Capture Software 3.1
now allows you to add
Chroma Key
to your webcam to remove your background when using a
Chroma Key
backdrop.
---
Using Chroma Key
---
You will need a
Chroma Key
backdrop for this feature to work. There are different options to choose from, but a solid color is necessary.
Green or blue are the recommended colors for keying — green being the most recommended.
Please Note:
When using a
Chroma Key
backdrop, if there is a similarly colored object as the background, it can also possibly be keyed. So if you are using a green screen, make sure you aren't wearing green clothing, etc.
Here are some tips to make sure you get the best experience and picture using
Chroma Key
:
Be in a well-lit environment. Try to use lights which cover a large area evenly and don't focus onto one small part.
Make your green screen as smooth as possible. Try and iron out big creases or put weights at the bottom of the material to hold it down and minimize clumping.
Leave a decent sized space between you and the material. 1-2 (3-6 ft.) meters behind you has shown the best results, too close or too far can make lighting harder.
---
Chroma Key Setup
---
To
Chroma Key
your webcam in
Elgato Game Capture Software 3.0 Beta
, please follow these steps:
1. Choose the scene you wish to edit in Stream Command and click "Edit Scene".
2. Click the Add button.

3. Choose your webcam.
4. Once your webcam is in your scene, click the icon to Remove Background.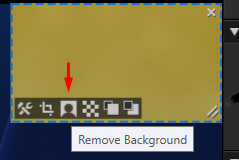 5. Check the box "Enable Green Screen".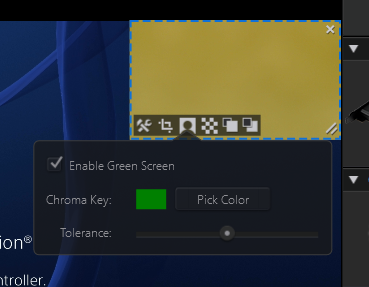 6. Click "Pick Color".
7. Use the color picker tool to select your background to remove it.
8. Adjust the tolerance slider to your liking.
9. Click "Save Scene".