Elgato Video Capture is easy to use, but to get the best out of it, you can read the Elgato Video Capture Manual.

You can download the drivers and software here:

https://www.elgato.com/en/video-capture/support


---
System Requirements
---


macOS:

Elgato Video Capture requires a Macintosh computer with an Intel Core processor, 1 GB RAM, built in USB 2.0 port, Mac OS X 10.5.8 or later, QuickTime 7.6 or later, and iTunes 8.1 or later. We recommend installing all software and security updates.


Windows:

Elgato Video Capture requires Windows 7, a computer with a 2.4 GHz Intel/AMD CPU, 1 GB RAM, and a screen resolution of 1024 × 768 or greater. We recommend installing QuickTime 7.6.6 or later and iTunes 10.4 or later.

Elgato Video Capture records video in H.264 at a resolution of 640 × 480 with AAC audio. This format is suitable foriPod touch, iPod classic, iPod with video, iPod nano (6th/5th/4th/3rd generation), iPhone 4, iPhone 3GS, iPhone 3G, iPhone, iPad 2, iPad and Apple TV. Video created by Elgato Video Capture is ready to edit in iMovie '09 or later and Windows Live Movie Maker, or to upload directly to YouTube.


---
Installation
---


macOS:

Download the software.

You will download a disk image file (ending in .dmg). The current file name is "evc_115_7253.dmg". That's like a virtual CD - when you click on it, a window will open called "Elgato Video Capture" that has the software in it, along with other files. That virtual "Elgato Video Capture" disk will also appear mounted on your Desktop.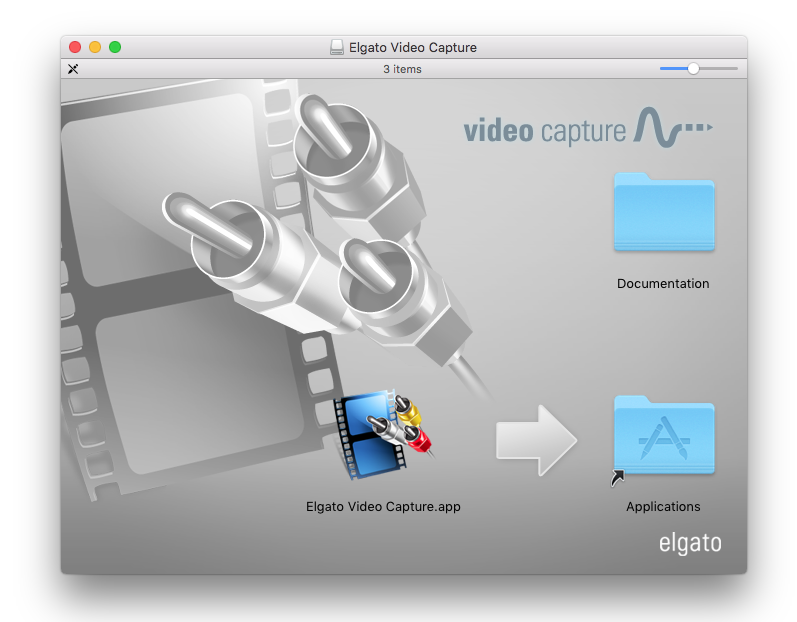 From that virtual CD, take the "Elgato Video Capture" software and drag it to your Applications folder, or to your Desktop. Then, it will copy from the disk image to that new location.

Close the disk image, and put it in the trash if you like. Then, use Elgato Video Capture from your Applications folder, or the Desktop.

You will be prompted to connect Elgato Video Capture to the USB bus.


Windows:

Download the software and the driver.

Double click the application.

You will be prompted to connect Elgato Video Capture to the USB bus.


---
Usage
---


Connect the Elgato Video Capture hardware to your computer and launch the Elgato Video Capture application. A video capture assistant will walk you through the entire process of capturing video and transferring it to your selected destination.

In the first screen that appears, you'll be asked to name your movie, and specify its approximate duration.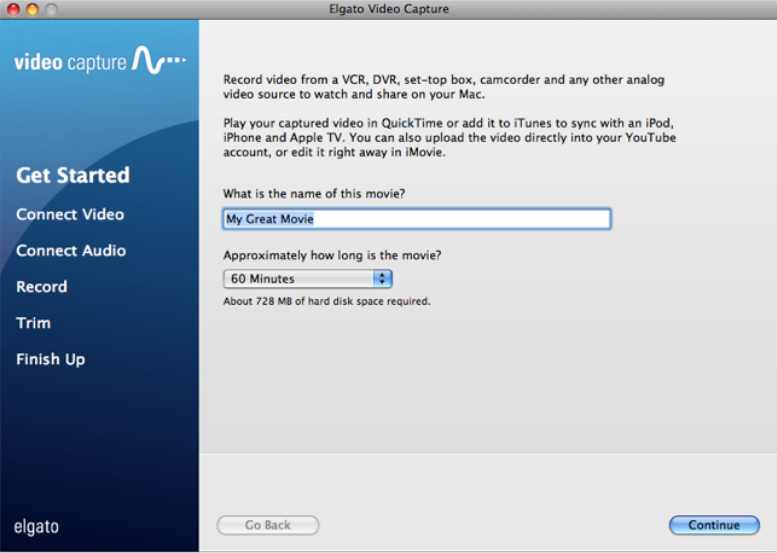 ---
Connect Video
---


Next, start playing back your video source and connect its output to the Elgato Video Capture. Choose the appropriate input (either the S-Video or Composite "RCA") using the radio buttons until you see your video playing.

You can also select the desired aspect ratio, either 16:9 or 4:3. The aspect ratio should match the output of the source video.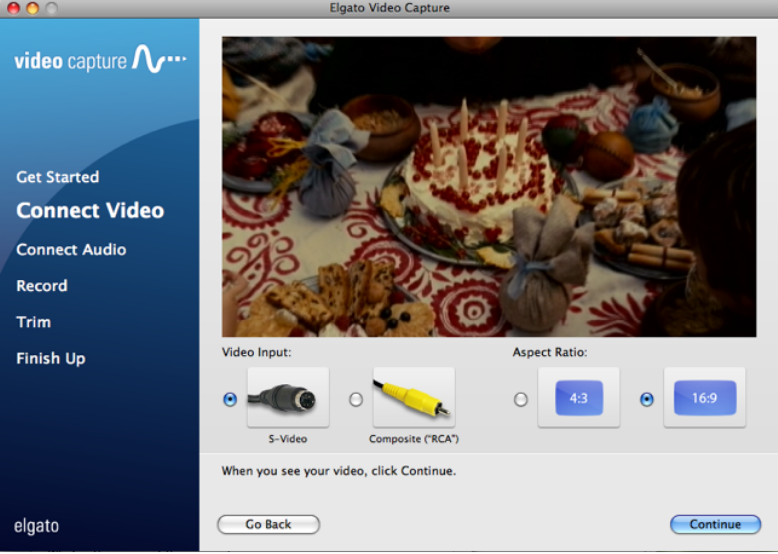 ---
Connect Audio
---


Next, connect your video source's audio outputs to Elgato Video Capture. Click "Continue" once you hear sound through your computer's speakers. If the volume is too loud, the meter will turn red, which is a sign of distortion. It is recommended to adjust the volume so that the meter does not turn red.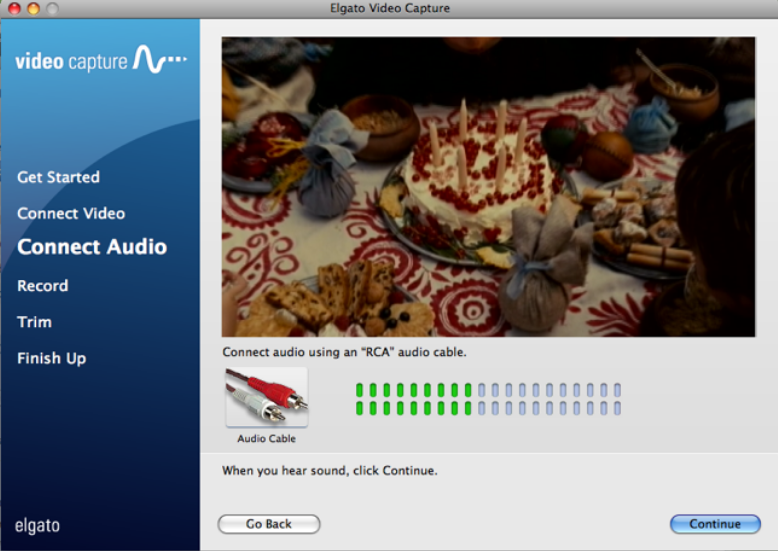 ---
Record
---


Finally, set your video source to the beginning and start playing it back. Click the "Start Recording" button. When you are done, click the "Stop Recording" button, or let the Elgato Video Capture software stop recording automatically.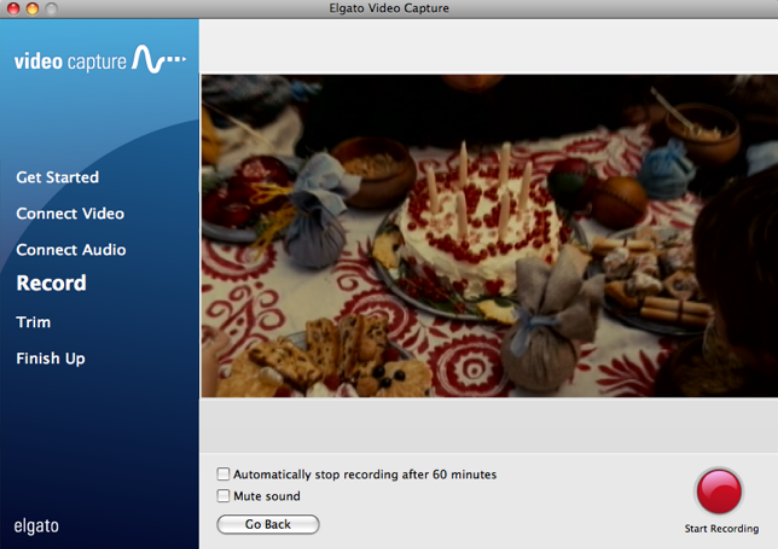 ---
Trim
---


After the recording is complete, you can trim the beginning and end of the video in the editor to remove any unwanted video. After the desired video has been trimmed, click the "Continue" button to finalize the edit.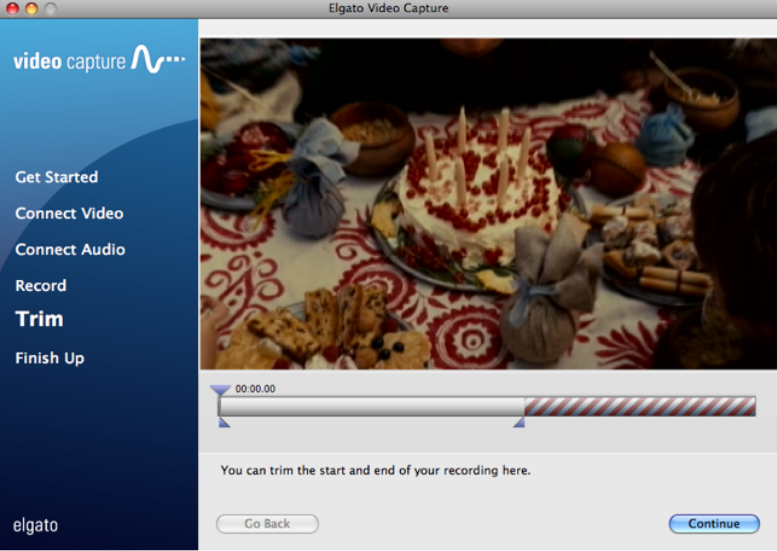 ---
Play Back, Share, and Export
---


The Elgato Video Capture software saves the captured movie to the Movies folder (Mac) or Videos folder (Windows). The default save location can also be changed in the Elgato Video Capture Preferences.

After the video has been saved, you can select whether:

• To play your video in QuickTime (Mac/Windows) or Windows Media Player (Windows)
• Add it to your iTunes library (Mac/Windows) or to Windows Media Player's library (Windows)
• Edit it with iMovie (Mac) or Windows Live Movie Maker (Windows)
• Or upload it to YouTube.

If the video is added to iTunes, the next time you connect your iPod, iPhone, or iPad, iTunes will synchronize the video to the device.

If you would like to create a new recording, simply press the "Again" button and the assistant will start over from the beginning. If you are finished recording, press the "Quit" button to exit the assistant.