This article goes over using Elgato Cam Link 4K with Video Conferencing applications such as Zoom, Microsoft Teams, Discord and many others.
---
Elgato Cam Link 4K and Video Conferencing Software
---
Elgato Cam Link 4K can be used with various video conferencing software to improve the quality of the video over a traditional webcam or a laptop's built-in camera.
Elgato Cam Link 4K uses a UVC driver, which means it is universally compatible with any conference software that is able to use webcams.
To use Elgato Cam Link 4K as the video source, select it in the program's settings as the video source.
---
Elgato Game Capture HD60 S+ is an Alternative to Elgato Cam Link 4K
---
An alternative capture device that works similarly to Elgato Cam Link 4K is the Elgato Game Capture HD60 S+.
The Elgato Game Capture HD60 S+ features up to 4K60 HDR pass-through and 1080p60 HDR capture capabilities focused on game console capture, however it can be used in the same was as Cam Link 4K.
Elgato Game Capture HD60 S+ also uses UVC which makes it compatible with video conferencing software.
---
Cameras that Work with Elgato Cam Link 4K
---
Elgato Cam Link 4K works with many different cameras.
Elgato maintains an updated list of compatible cameras - Cam Link compatibility list.
This list is not exhaustive of all cameras on the market. This list is comprised of well known cameras and those reported by the community.
Cameras that work with Elgato Cam Link 4K need to fit the following criteria:
Clean HDMI output - The HDMI feed does not contain info such as shutter speed, ISO, focus box, etc.
Unlimited run time - The camera needs to be able to stay on and active for an indefinite amount of time.
This is an example the quality that can be achieved when using Cam Link 4K and a Sony Alpha 6000 camera:
This short video shows how to setup the Sony Alpha 6000 with a Cam Link 4K and the changes to settings on the camera to use it with Cam Link 4K:
---
Background Removal / Replacement
---
With the increased video quality that comes with using Elgato Cam Link 4K, background removal software will be more effective.
Some software has built-in background removal, while others do not and require "middle-man" software to remove the background.
Built-in background removal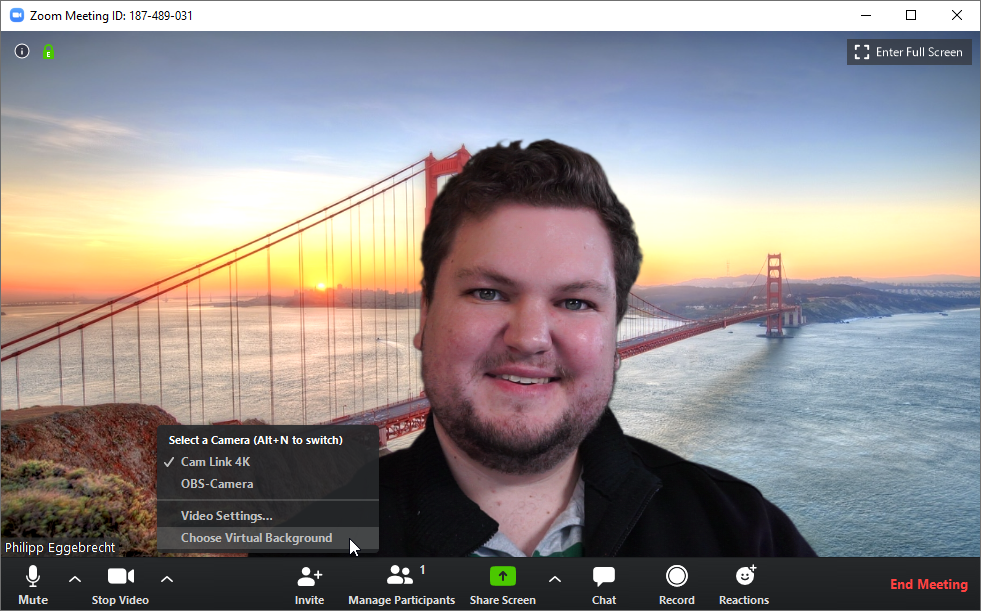 To remove the background in video conferencing software that does not have functionality built-in, a 3rd party software needs to be used.
The software below captures the video from Elgato Cam Link 4K, does background removal / replacement, then outputs the video as a virtual camera source to the video conference software.
While some of these background removal software including Zoom have AI features, using a Green Screen will allow for much higher quality background removal, keeping edges sharp and clean.
Two easy to use and setup solutions are the Elgato Green Screen and Green Screen MT (Mount). The former can be easily setup in a matter of seconds. The Green Screen MT requires mounting on a wall or ceiling, for even more convenient storage.
---
Mounting and Placement of the Camera
---
Placing a full size camera on a desk can be an issue, but the Elgato Multi Mount is an easy solution.
Multi Mount can be used to mount the camera by clamping it onto the back of a desk by using the included clamp mount.
Weighted Base is an accessory that replaces the Multi Mount's clamp mount and lets the camera stand on a desk or other flat surface, if space is available.
Flex Arm is an accessory that can be used with Multi Mount to move the camera freely around or above a monitor or other obstacles.
---
Lighting
---
A key component to looking good in front of any camera is lighting.
When using a USB webcam or built-in webcam, lighting becomes even more important to account for the webcam's smaller sensor size.
Elgato has two solutions:
Elgato Key Light - A large edge-lit LED panel which comes with Multi Mount to easily mount on the back of a desk.
Elgato Key Light Air - A smaller version of Elgato Key Light that comes with a more traditional tabletop stand with adjustable height.
Both Elgato Key Lights feature controllable brightness and color temperature which help with creating more natural looking skin tones on camera.
Both Elgato Key Lights are Wi-Fi controlled. They connect to the home Wi-Fi network and can be controlled from a PC, Mac, iOS or Android device. They can also be controlled with the Elgato Stream Deck.