Wave Link is compatible with other microphones; they can be added as inputs and used as the primary microphone if desired. This also applies to software that emulates being a microphone, as is the case with NVIDIA Broadcast.
NVIDIA Broadcast features AI based noise suppression and removal filter, using an NVIDIA RTX GPU to accelerate the AI process of removing unwanted sound from the microphone audio.
This guide will cover how to use an Elgato Wave:3 or Wave:1 microphone with NVIDIA Broadcast and how to bring the AI processed audio into Wave Link.
---
Add Wave:3 or Wave:1 to NVIDA Broadcast
---
1) Download and install NVIDIA Broadcast from https://www.nvidia.com/en-us/geforce/broadcasting/broadcast-app/
These are the NVIDIA Broadcast requirements set by NVIDIA:
Operating system: Windows 10 64-bit
GPU: NVIDIA GeForce RTX 2060, Quadro RTX 3000, TITAN RTX or higher
RAM: 8GB RAM or higher
CPU: Recommended: Intel Core i5 8600, AMD Ryzen r5 2600 or higher
GPU Driver: NVIDIA Display Driver version 456.38 or higher
2) Once NVIDIA Broadcast is installed, open the application
3) From the Input Device dropdown menu, select the Wave:3 or Wave:1 microphone. The device name will be Mic In (Elgato Wave:3) or Mic In (Elgato Wave:1)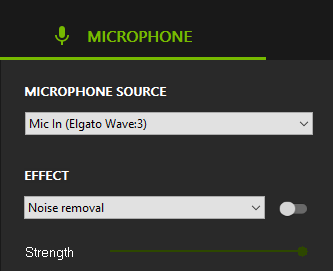 4) Now activate the Noise Removal effect to turn on the AI noise reduction.
5) Using the Strength slider, adjust the amount of the noise removal. We recommend starting with low, then adjusting as needed by doing testing.

6) The NVIDIA Broadcast setup with the Wave microphone is now done and the window can be closed.
To add the Wave microphone which now routed through NVIDIA Broadcast to a recording or streaming software, choose the Microphone (NVIDIA Broadcast) as the microphone device.
---
Add NVIDIA Broadcast as Input into Wave Link
---
1) Open Wave Link
2) Hover the mouse cursor over the next available input and click on the + icon

3) From the Input menu select Microphone (NVIDIA Broadcast)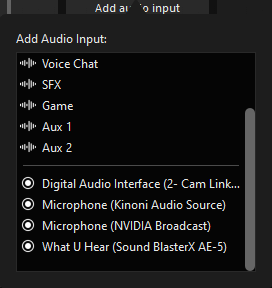 4) Speak into the Wave microphone, and the audio monitor bars should start moving
Make sure to mute the Wave microphone channel, so as not to cause audio doubling. The NVIDIA Broadcast with Wave should now be used as the primary microphone.
Note: Due to the voice processing, a small amount of additional delay is added to the microphone audio. We do not recommend having this audio channel sent to your monitor mix.
5) The NVIDIA Broadcast input can now be controlled just as any other input in Wave Link, with individual levels for both monitoring and the stream mix.