Stream Deck features a built-in soundboard that plays back audio files.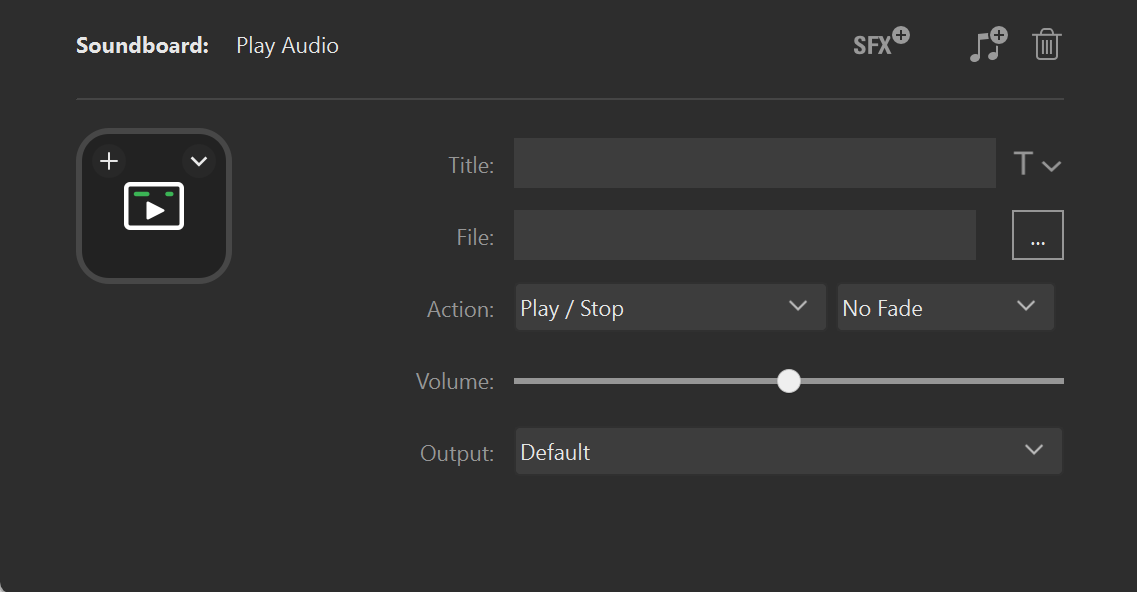 Contents:
---
Compatible file types
---
These are the audio:
---
Configurable Settings
---
Action
Change the behavior of the playback when the key is tapped.
Play/Stop - Tap to play the sound. Tap again to stop it.
Play / Overlap - Tap to play the sound. Tap again to play and overlap the existing sound.
Play / Restart - Tap to play the sound. Tap again to restart playback from the beginning.
Loop / Stop - Tap to play the sound in a loop. Tap again to stop looping the sound.
Fade
Raise or lower the volume of the sound at the beginning or end of playback over a certain amount of time.
Fade in
Fade out
Fade in & out
Duration: From 1 to 5 seconds
Volume
Adjust the playback volume of the selected sound.
Output
Choose a specific audio device to play the sound through.
---
Recommended file format
---
The recommended file format is WAV (.wav) or FLAC (.flac)
WAV files are uncompressed, meaning fewer resources are required for playback.
MP3 files are not recommended as they are compressed files which means Stream Deck needs to decode them before playback which can lead to increased CPU usage as well as minor hitches in sound when starting playback.
Converting between audio formats can be done using the free program Audacity - https://www.audacityteam.org/.
---
Using soundboard in Discord
---
Sounds played through the soundboard action can be sent to voice chat such as Discord or meetings and in-game chat.
Elgato Wave Link is required.
Video guide