When opening 4K Capture Utility, you may encounter an error which reads "Device is in use by other software". These are the steps to resolve this error.
The device is in use by other software error appears when a capture device is actively used in a different software.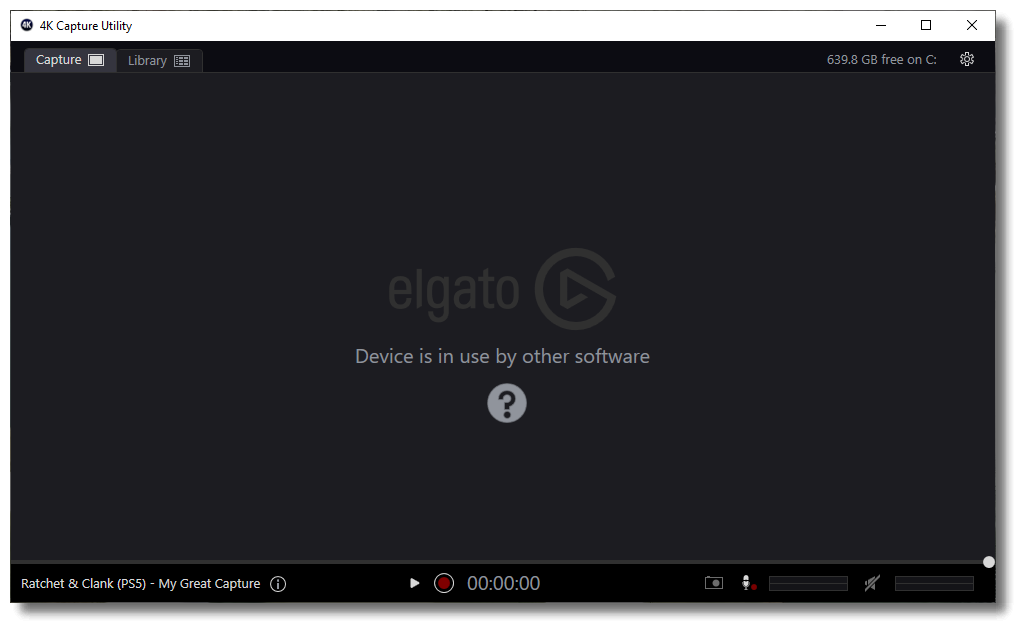 ---
Why Does This Error Occur?
---
Video capture devices can be accessed by one software at a time. The first software to access the device will be the only software that can receive video from the device. If a second software, such as 4K Capture Utility tries to access the device, it will not work.
This can happen when the capture device is added to a scene in OBS Studio, and then 4K Capture Utility is opened.
---
Multi App
---
Some Elgato devices feature Multi App - A feature which allows multiple programs access to the video capture device at the same time. Learn more about which Elgato devices support Multi App here.
Troubleshooting Steps
---
Close Other Video Applications
---
Close any program that may be using the video capture device. For example OBS Studio, XSplit, Streamlabs OBS, Windows Camera, Slack, Zoom, Microsoft Teams, etc.
Once the program is closed, close and re-open 4K Capture Utility.
---
Restart 4K Capture Utility
---
4K Capture Utility may be showing the error message without the error being present. Close and re-open the 4K Capture Utility.
---
Restart The Computer
---
In some cases, programs that have accessed the video capture device do not properly "release" it when closed, and the device is still being accessed. Should this occur, restarting the computer is necessary.
---
If you are still having trouble with your Elgato device after these troubleshooting steps, please contact Elgato support via http://e.lga.to/help