NVIDIA Broadcast features AI-based background blur, background removal, background replacement, and auto framing, using an NVIDIA RTX GPU to accelerate the AI process.
This guide will cover how to use Cam Link Pro with NVIDIA Broadcast.
---
Setup Cam Link Pro in NVIDIA Broadcast
---
1) Download and install NVIDIA Broadcast from https://www.nvidia.com/en-us/geforce/broadcasting/broadcast-app/
These are the NVIDIA Broadcast requirements set by NVIDIA:
Operating system: Windows 10 64-bit
GPU: NVIDIA GeForce RTX 2060, Quadro RTX 3000, TITAN RTX or higher
RAM: 8GB RAM or higher
CPU: Recommended: Intel Core i5 8600, AMD Ryzen r5 2600 or higher
GPU Driver: NVIDIA Display Driver version 456.38 or higher
2) Once NVIDIA Broadcast is installed, open the application
3) From the menu bar select Camera (Beta)

4) Choose one of the Cam Link Pro inputs as the camera source in the dropdown menu.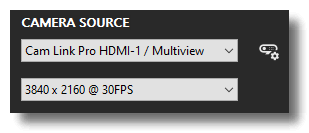 5) Next, choose the desired effect from the dropdown menu.
Background blur - Blurs the background to create a high-end camera bokeh blur effect
Background removal - Removes the background
Background replacement - Replaces the background with a custom image
Auto frame - Attempts to keep your face in view no matter where you move
Adjustable settings are different per effect.
6) Once the effect is selected and set up, open the program that will be used.
7) When selecting the camera/capture device, choose Camera (NVIDIA Broadcast)