Here are the changes in Elgato Camera Hub 1.0.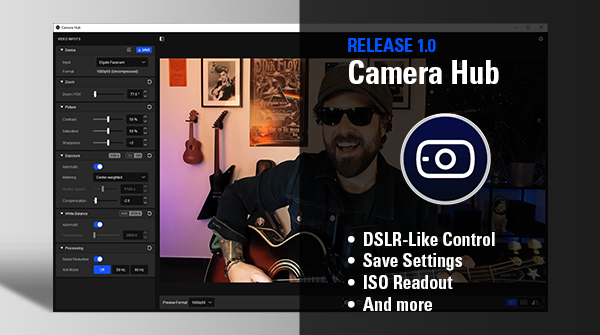 You can download Camera Hub 1.0 by clicking on the links below.
macOS
Windows
Meet Camera Hub!
This is the initial release of Camera Hub, a sophisticated software custom-built for Facecam.
🆕 DSLR-Like Control
Zoom, exposure, compensation, noise reduction, white balance, and more. All the control you need to dial in the perfect image.
🆕 Save Settings to Facecam
Save settings directly onto the flash memory onboard Facecam. No matter which broadcasting or video calling application you use, these settings become the new default and will apply when you start or restart your computer, or even connect Facecam to a different computer.
🆕 ISO Readout
For the first time ever in a webcam, Facecam provides a real-time ISO readout from the sensor. With this critical information, you have the feedback you need to adjust your lighting to enjoy the highest-quality camera performance. If the ISO value is too high, be sure to add more light to your scene.
🆕 Compact Mode
Many programs don't let you access webcam settings, especially not with the intuitive, granular control offered in Camera Hub. Compact Mode gives you access to all of Facecam's settings while taking up minimal screen real estate, no matter what program you're using with Facecam.
🆕 Low-Latency Preview and Snapshots
Grab high-quality snapshots and get instant feedback as you adjust settings with the ultra-low latency preview.