Here are the changes in Elgato Camera Hub 1.1.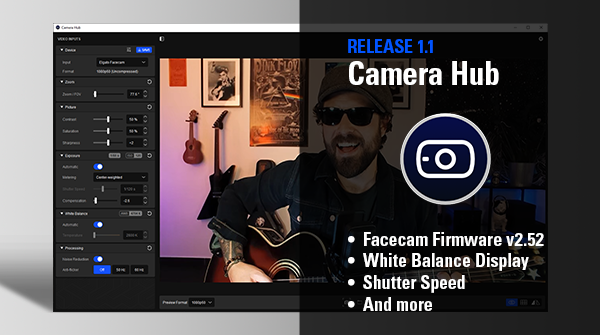 You can download Camera Hub 1.1 by clicking on the links below.
macOS
Windows
What's new in Camera Hub 1.1?
This is the first update to Camera Hub since launching Facecam. We're overwhelmed by your response and enthusiasm! In this update, we've focused on bug fixes and improvements for the main issues reported by you, our awesome community.
🆕 Facecam Firmware v2.52
This firmware update fixes the issue where the shutter speed was reset to 1/125s.
🆕 Shutter Speed and White Balance display
More information is now at your fingertips. In automatic mode, the shutter speed and white balance values will be displayed.
🆕 Mirror video preview
You can now mirror the video preview in Camera Hub. This only applies to the Camera Hub preview, not third-party software such as OBS, Zoom, Microsoft Teams, etc.
🛠 Bug fixes & Performance improvements
Storing and restoring Facecam settings reliability has been improved.
Zoom will no longer reset to 1.0x after connecting Facecam to a PC or restarting the PC.
Camera Hub will now display appropriate messaging if access to Facecam is blocked by Windows Camera Privacy Setting.
Available disk space is shown for the snapshot save location in Preferences.
Snapshots on macOS now look better and include the correct color profile information.
Resolved a bug where the save button was active even when no settings had been changed.
ℹ️ Facecam video freezing
If your Facecam is encountering a video freezing issue, we've put together some troubleshooting steps for you. Please take a look here and if none of the steps help, get in touch. Our support team is standing by!