Here are the changes in Wave Link 1.4.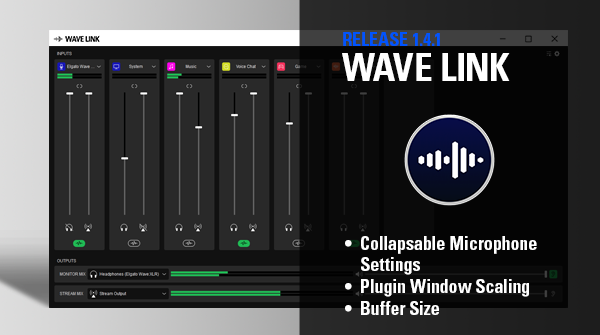 You can download Elgato Wave link 1.4 by clicking on the link below.
Windows
What's New in Wave Link 1.4?
⚠️ After updating Wave Link, you will need to reconfigure your audio routing setup. Sorry for the inconvenience, but it will be worth it!
Our biggest update yet
Audio effects are here! Now you can tweak, tune, and completely change your sound with VST plugins. You knew this was coming, didn't you? ;-)
🆕 Audio Effects
Equip channels with third-party VST plugins like EQ, compression, or reverb. There are literally thousands available online.
This makes Wave Link the ultimate digital mixer
With support for both VST2 and modern VST3 effects – equalizers, compressors, noise gates, filters, vocoders, etc. – the scope to customize your sound is pretty much endless.
Effects can be applied to any input channel(s) – not just your microphone channel. Keep a friend's voice chat in check with a compressor, or use an EQ to boost the bass for a music channel.
Within each channel, you can apply the effect(s) to your stream mix and/or monitor mix, or completely disable them.
Chain effects together to create incredible sound stages. You can add, rename, and rearrange up to ten effects per channel!
Get the Wave Link plugin for Stream Deck here, and toggle audio effects with a press of a key.
Learn more about using audio effects in Wave Link here.
🆕 MicrophoneFX Output
In addition to the stream and monitor mix there's a new output mix, aptly called MicrophoneFX. This output contains only microphone audio and applied effects. Which means you can select Wave Link MicrophoneFX in apps like Zoom, and enjoy limitless sound sorcery throughout your digital space.
Learn how to use the MicrophoneFX Output here.
🛠️ Bug fixes and performance improvements
- When new VSTs are installed, Wave Link will scan them to determine if they will work properly. VSTs that don't make the cut will be blacklisted. Learn more.
- Fixed an issue where Wave Link would not work when awakening a PC from sleep.
- Fixed an issue where audio from input devices is distorted.
- Fixed an issue where changing the output device would unmute the monitor mix.
@DeFrag created a fantastic video about getting the best sound with VSTs. Watch it now.