Here are the changes in 4K Capture Utility 1.7.3.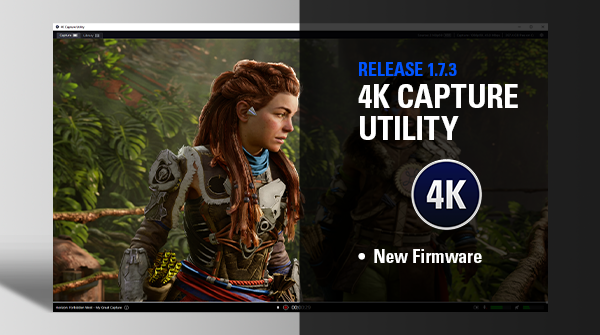 You can download 4K Capture Utility 1.7.3 by clicking on the link below.
Windows
Find hardware drivers here.
4K Capture Utility 1.7.3
Improvements in the processing of video from 4K60 S+ result in up to 30% preview latency reduction.
Latency improvement varies by setup and system configuration.
Device support
Includes the latest drivers for HD60 S, HD60 Pro, and 4K60 Pro, which fix an issue that caused Microsoft Teams to freeze when opening the video settings.
New firmware for HD60 S+ fixes an issue that caused a yellow line in captured video when the incoming resolution was 4K HDR.
New firmware for 4K60 Pro MK.2 fixes an issue where, if the source is a PC, the captured video would be corrupt when pressing alt+tab to enter or exit fullscreen PC games.
A note about firmware updates: Unless you are specifically experiencing the issue mentioned, we suggest that you do not update the firmware. Updating firmware can pose risks if the update process is interrupted. If you believe your device needs a firmware update, please contact Elgato support at http://e.lga.to/help.
Bug fixes and performance improvements
Recordings made in HEVC format can now be imported into Final Cut Pro.