Here are the changes in 4K Capture Utility 1.6.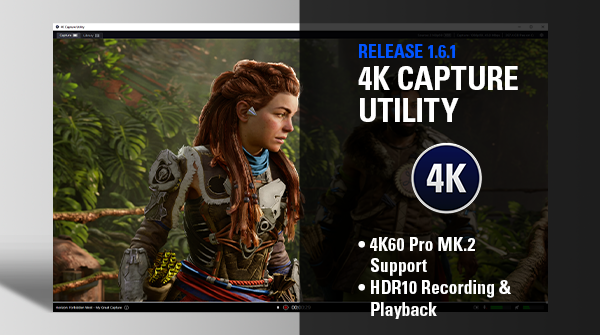 You can download 4K Capture Utility 1.6 by clicking on the link below.
Windows
Hardware drivers are available here.
What's New in 4K Capture Utility 1.6.1.
Support for Game Capture 4K60 Pro MK.2
This update adds support for the newly released 4K60 Pro MK.2
4K60 Pro MK.2 builds upon the foundation of the groundbreaking 4K60 Pro, coming in a new, much smaller design. Just as small as the HD60 Pro and with powerful new hardware that for the first time enables you to capture full 4K60 HDR video. Now you can play in HDR plus capture immaculate HDR footage. If you don't have an HDR-capable PC monitor, or you wish to live stream, no problem — 4K60 Pro MK.2 features onboard tone mapping that converts HDR to SDR. This means you can play in HDR and use 4K60 Pro MK.2 in your favorite streaming program, such as OBS Studio.
HDR10 recording and playback
4K Capture Utility gets a serious upgrade with this update. When using the new 4K60 Pro MK.2, you can now record 10-bit HDR footage in HEVC format. HEVC achieves space savings of around 30% while maintaining the same video quality when compared to traditional H.264.
Recording HDR footage requires an NVIDIA GTX 1050 GPU or higher
HDR videos can be played back on any HDR-capable display using popular video players such as VLC or Potplayer. If no HDR capable display is connected, VLC and Potplayer will tone map the HDR video to SDR.
General improvements:
Added an "HDR" badge to HDR video thumbnails for easy identification in the Library
Added a new hotkey "Ctrl + Shift + M" to easily toggle monitoring for Live Commentary
Improved the settings UI for Live Commentary