Here are the changes in 4K Capture Utility 1.6.3.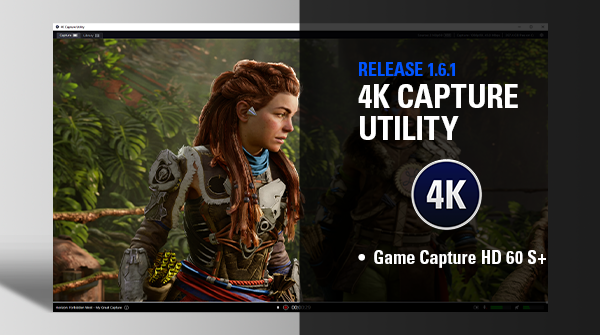 You can download 4K Capture Utility 1.6.3 by clicking on the link below.
Windows
Hardware drivers are available here.
What's New in 4K Capture Utility 1.6.3.
Introducing Game Capture HD60 S+
Building on the iconic technology of HD60 S, HD60 S+ ushers in the future:
4K60 HDR passthrough
1080p60 HDR capture
UVC driver
Enjoy the latest and greatest games in 4K and HDR while recording or streaming your gameplay in 1080p at 60 fps in HDR. Thanks to UVC, HD60 S+ is compatible out of the box with Windows and macOS. HDR recording is only available on Windows at this time.
HD60 S+ has onboard HDR to SDR video tone mapping, so you can play in HDR while using HD60 S+ in 3rd party software such as Streamlabs OBS, OBS Studio, and XSplit.
We've made an awesome trailer for HD60 S+ that you can check out here.
HD60 S+ is now available for $199.99. In the United States, it is available exclusively at Best Buy. For other regions, get the details here.
General Improvements:
Added device support for Game Capture HD60 S+.
Performance improvements for HEVC / HDR recording.
A warning message will now indicate if an audio input device such as a microphone is blocked by the new Windows 10 microphone privacy settings. Learn more about these new settings here.
Bug Fixes
HEVC / HDR recording works again with NVIDIA driver versions 436.x and later.
HDR badge in the video library was sometimes assigned to SDR recordings. Not anymore.
Various stability improvements.