Here are the changes in Stream Deck 4.8.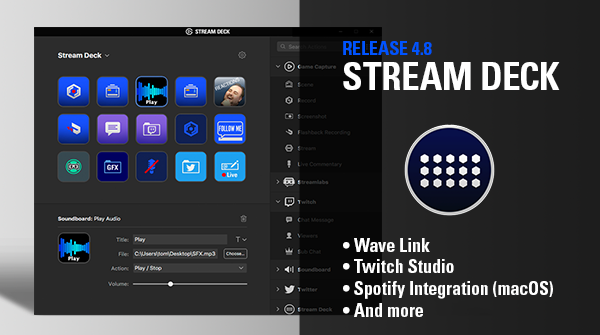 You can download Elgato Stream Deck 4.8 by clicking on the links below.
macOS
Windows
What's New in Stream Deck 4.8.
Wave Link
This incredible integration coincides with the launch of our Wave:1 and Wave:3 microphones, and the all-powerful Wave Link mixing app. With up to nine audio input channels and two output mixes - one for you and one for your audience - Wave Link gives you ultimate control of your Twitch stream, YouTube video or podcast audio. Together with Stream Deck, it's a hybrid mixing solution like no other.
When first installing the Wave Link integration, you can choose a custom profile that is automatically configured to get you mixing with your Stream Deck or Stream Deck XL in no time. Of course, Stream Deck can be customized to control actions exactly how you want, which is especially powerful when creating Multi Actions to, for example, adjust audio, lighting and camera settings simultaneously.
Available actions:
Toggle Monitoring
Mute Input
Set Input Volume
Adjust Input Volume
Mute Output
Set Output Volume
Adjust Output Volume
Microphone Settings
Learn more about Wave:1 and Wave:3
Twitch Studio
That's right. We've been working with Twitch to make the Stream Deck integration with Twitch Studio airtight. This new integration lets you control Twitch Studio directly from Stream Deck:
Select a layout
Show or hide a layer
Mute or unmute an audio layer
Start and end streaming
Start and end recording
Spotify integration for macOS
Mac users rejoice: a Spotify integration is now available! This new integration lets you control your macOS Spotify app directly from Stream Deck:
Play/Pause
Toggle Shuffle
Next/Previous Track
Adjust Volume
General fixes and improvements