Here are the changes in Stream Deck 4.7.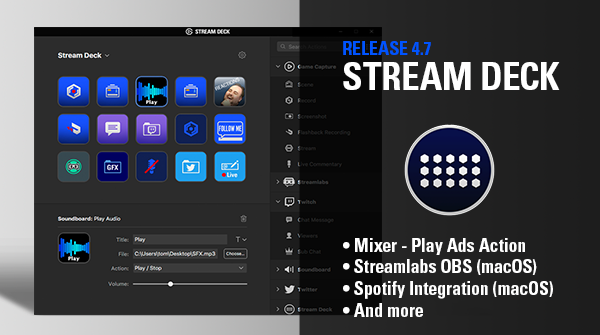 You can download Elgato Stream Deck 4.7 by clicking on the links below.
macOS
Windows
What's New in Stream Deck 4.7.
Mixer - Play Ads action
Partnered streamers on Mixer can now easily trigger advertisement breaks directly from Stream Deck. This new action will appear in the Mixer category.
Support for Streamlabs OBS for Mac
Streamlabs OBS was recently released on macOS. We've made sure it works with Stream Deck.
Action to show and hide the G-Keys Action Bar
There's a new action that will show or hide the G-Keys Action Bar. G-Keys are the special keys found on some Corsair Keyboards. Learn how to use G-Keys on your CORSAIR K55 and K95 with Stream Deck
General fixes and improvements
Stream Deck is ready for the next major Windows 10 update
Optimized the Stream Deck app to launch faster when using multiple Stream Deck devices
Fixed a bug where the Soundboard Loop/Stop mode would not stop sound playback
Improved Stream Deck Mobile (Android) connection when the host computer is using a virtual network interface
Fixed a rare issue where replacing a folder with an action and moving the action into the folder would delete the folder
Fixed a bug that would sometimes cause the Stream Deck app to crash when uninstalling an integration