Here are the changes in Stream Deck 4.5.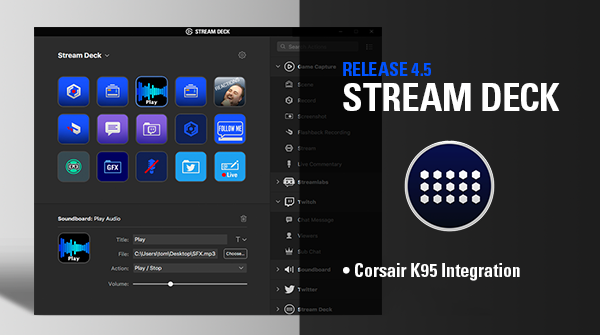 You can download Elgato Stream Deck 4.5 by clicking on the links below.
macOS
Windows
What's New in Stream Deck 4.5.
Corsair K95 Integration
This update adds Stream Deck functionality to select Corsair Keyboards, a major first in two ways: your keyboard just got more powerful through a free software update, and it's the first peripheral -- that isn't Stream Deck -- to integrate with the Stream Deck software and its powerful features. Put simply, your G-keys now give you access to Stream Deck actions and integrations.
Supported keyboards:
K95 Platinum
K95 Platinum XT
K95 Platinum SE
Use the Stream Deck software to drag and drop actions onto G-keys, and personalize your configuration with custom icons for different games and apps. When it's showtime, tap to switch scenes, launch media, post tweets, and more. You can even trigger GIFs, images, videos, and audio to invigorate your stream like never before.
While your programmed actions can be viewed in the Stream Deck software, a floating Action Bar always displays them on screen for quick reference. This Action Bar can be dismissed by selecting Hide Action Bar via your Windows Systems Tray or macOS Menu Bar.
To enable cross-functionality, the latest version of both the CORSAIR iCUE software and Elgato Stream Deck software must be installed and running.