This guide will show you how to use your Elgato Game Capture HD60 X with OBS Studio and configure the software to get the most out of your device for recording. While this guide is written for OBS Studio, many of the steps are the same for Streamlabs OBS.
Content
---
What is OBS Studio?
---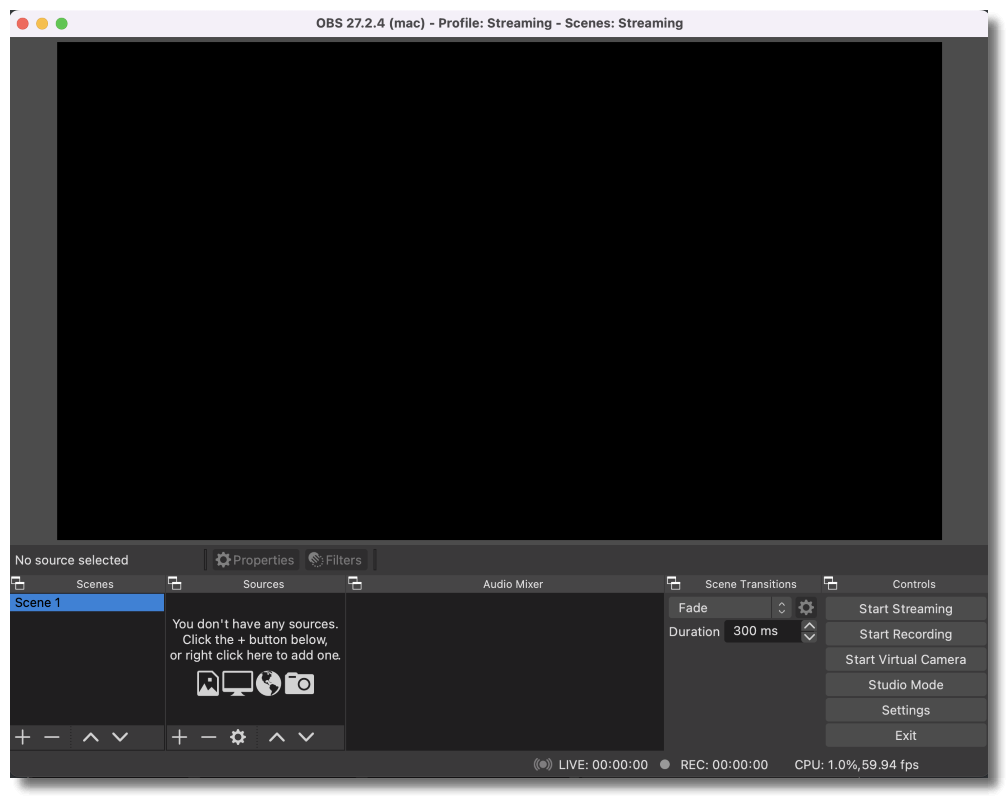 OBS Studio is a free and open-source streaming and recording tool with robust overlay systems and audio controls. It can stream to TwitchTV, YouTube, Facebook, Twitter, RestreamIO, and more. It can also record and stream simultaneously at different quality settings if desired.
You can download the latest version of OBS Studio here: https://obsproject.com/download
This guide was written using OBS Studio 27.2.4.
If you're interested in learning more about OBS Studio and what it can do, here is an OBS Studio Learning Course by EposVox: OBS Studio Master Class
---
Configure OBS Recordings
---
Audio
To capture game audio within OBS Studio, Game Capture HD60 X must be added as an Audio Source.
1) Navigate to the bottom-right of OBS Studio and select Settings.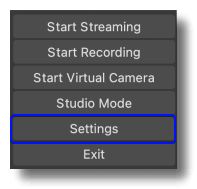 2) Click the Audio tab on the right-hand side and select Game Capture HD60 X from the drop-down menu Mic/Auxillary Audio.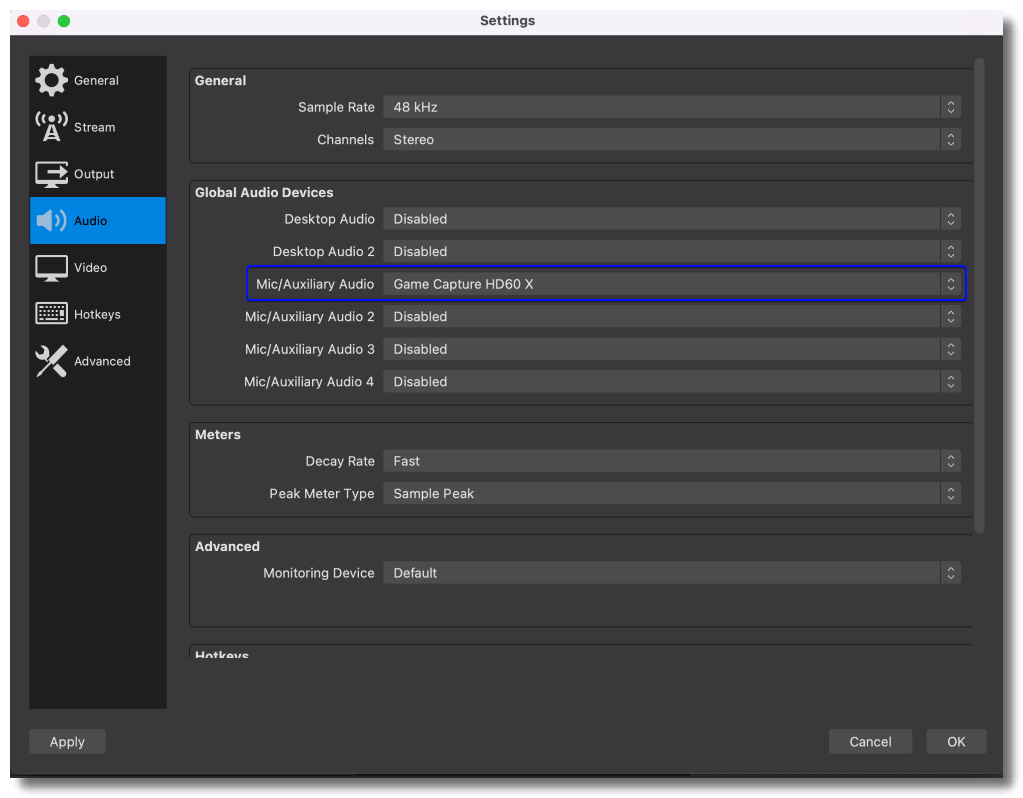 Video
OBS Studio gives the ability to adjust the Frame Rate(FPS), Base Canvas, and Output Resolution. The Base Canvas will determine what OBS displays while the Output Resolution will adjust the recording resolution.
1) Navigate to the bottom-right of OBS Studio and select Settings.
2) A new window will appear—select the Video tab. You'll now be able to adjust the Base (Canvas) Resolution, Output (Scaled) Resolution, Downscale Filter, and Frame Rate.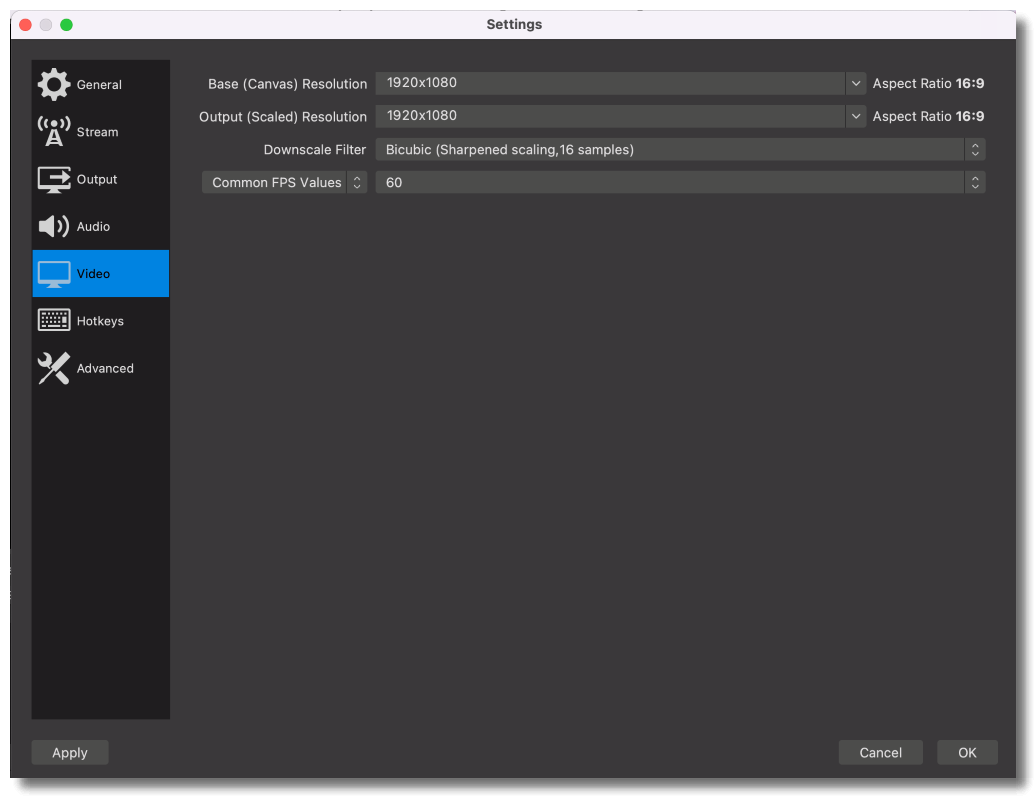 Output
The Output tab allows you to adjust the Encoder, Video/Audio Bitrate, Recording Path, and more.
1) Navigate to the bottom-right of OBS Studio and select Settings.
2) A new window will appear—select Output from the sidebar on the left-hand side.
3) In the Output Mode dropdown, choose Advanced to switch from the Simple settings.
4) Click the Recording Tab.
5) You'll now be able to adjust the Recording Path, Recording Format, Audio Tracks, Encoder and Rescale Output.
6) Once the desired Recording Path and Format have been finalized, ensure the Encoder is set to Apple VT H264 Hardware Encoder.
7) Bitrate is the number of bits per second. This determines the overall recording quality. To help get you started, are some recommended bitrates. Please note, that these are not finalized numbers and may need to be adjusted.
720p: 10,000 Kbps
1080p: 20,000 Kbps
1440p: 30,000 Kbps
2160p: 40,000 Kbps


---
Adding HD60 X as a Video Source to OBS Studio
---
Once the settings are finalized, we're now ready to add HD60 X as a video source in OBS Studio.
1) Go to the bottom half of the OBS Studio window. Look for a column on the left-hand side called Scenes. Next to it is will be a column called Sources. Below the Sources column, click on the ➕ button below. Then choose Video Capture Device.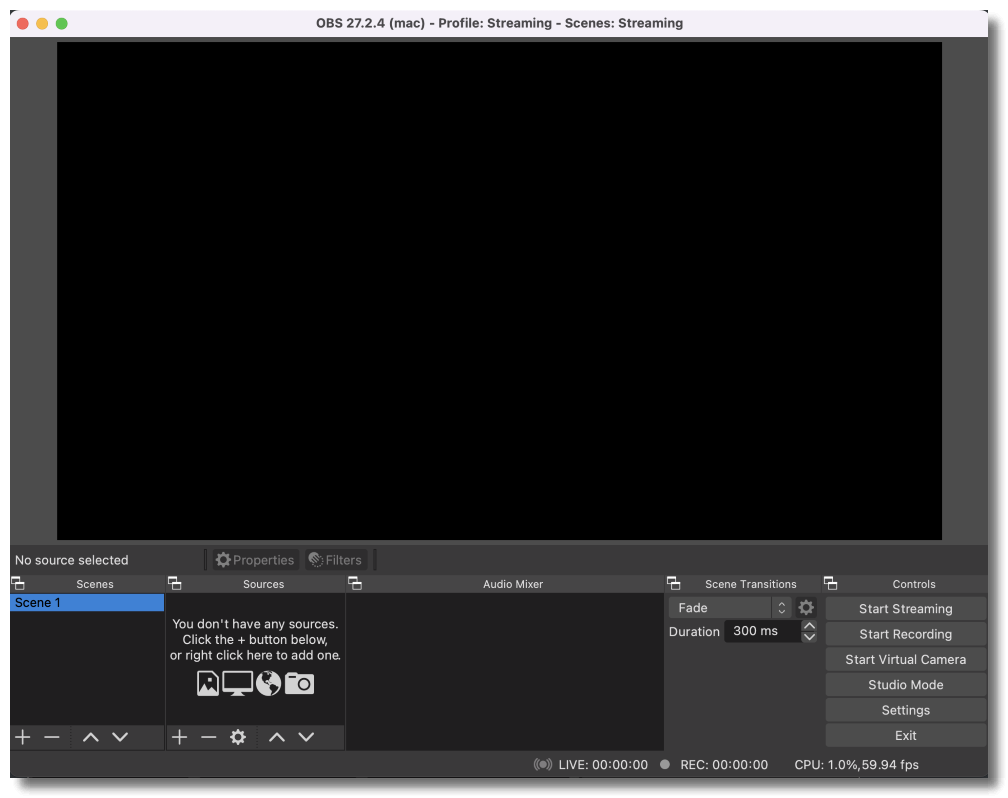 2) A new small window will appear asking what you wish to name the layer. Click on OK.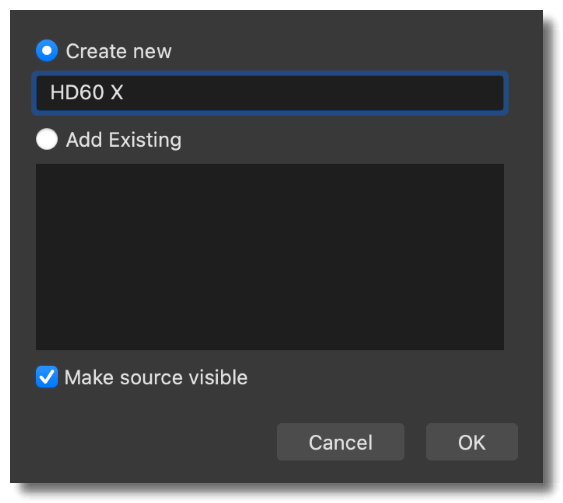 3) A new larger window with a preview will appear (seen below). This is asking you to choose the capture device from a list and configure it. On the Device selection, choose "Game Capture HD60 X". Select Use Preset, select the desired resolution, and press OK.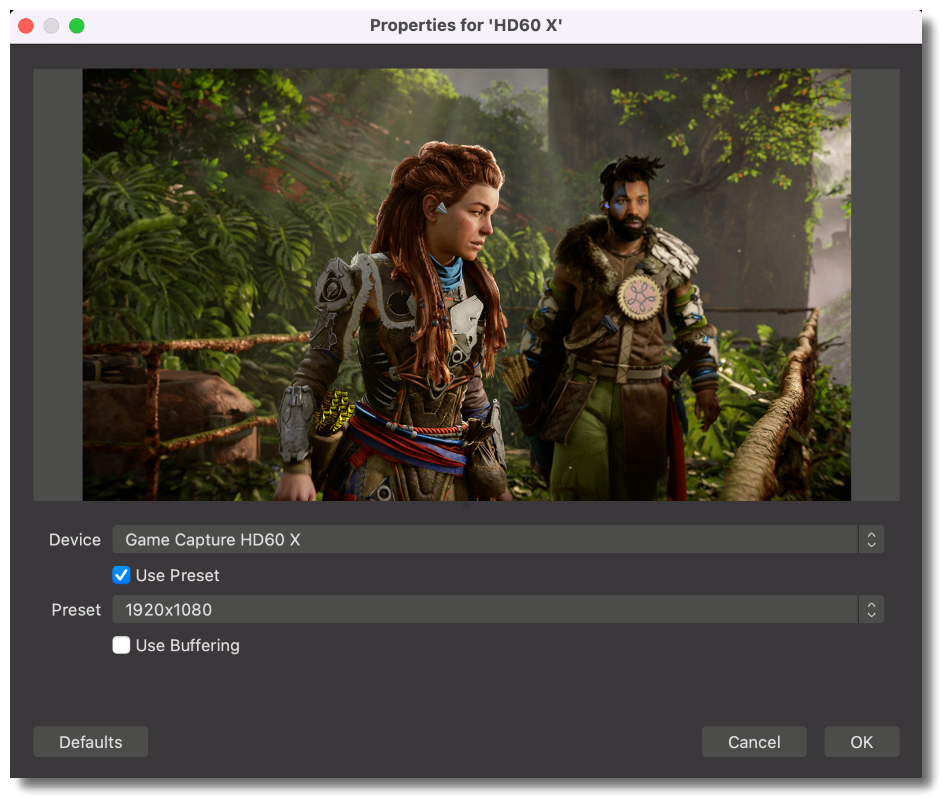 4) We're now ready to record. Press the "Start Recording" near the bottom-right corner of OBS. The recording will begin immediately.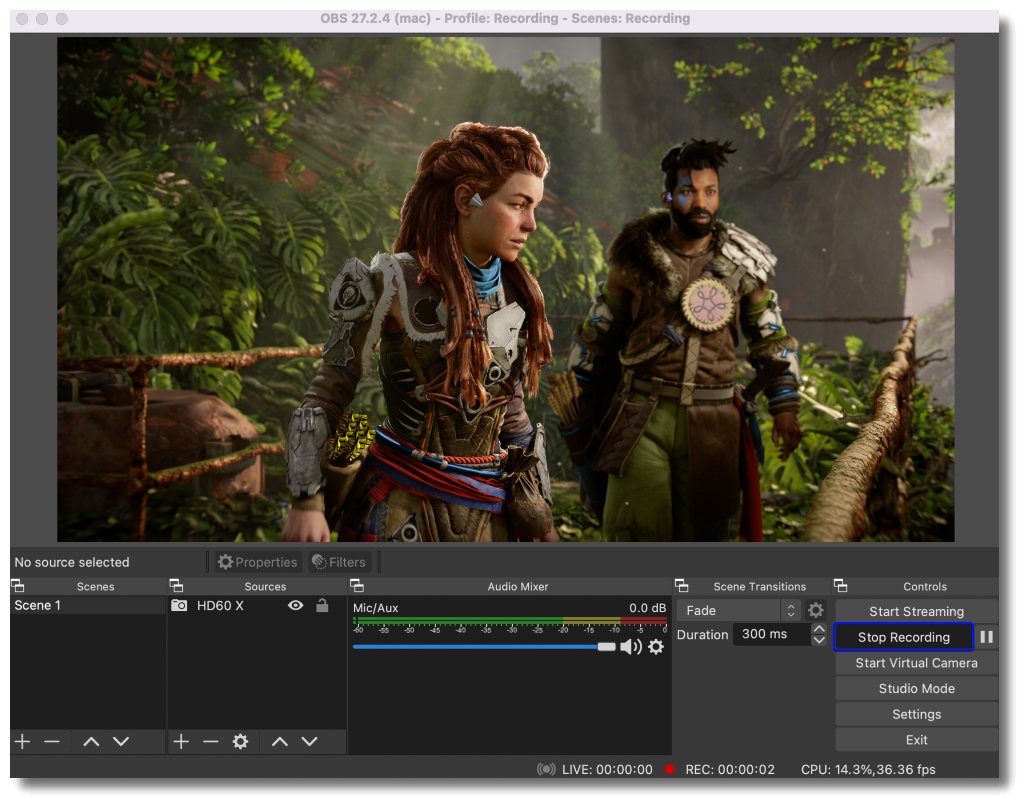 6) Click "Stop Recording" when you're finished. The video will automatically be saved to '/users/*UserProfile/Movies/'. The file name and location can be adjusted within OBS Settings.
---
High Dynamic Range (HDR) Content
---
At this time, OBS Studio does not support HDR recordings. If you are capturing an HDR source, the Elgato Game Capture HD60 X will automatically convert the signal to SDR to be compatible with OBS Studio. This is known as *Tone mapping".
*The result is that the image in OBS Studio will look different than how it will look on the HDR display you have connected to the passthrough. But this is normal behavior.