Here are the changes in Control Center 1.3.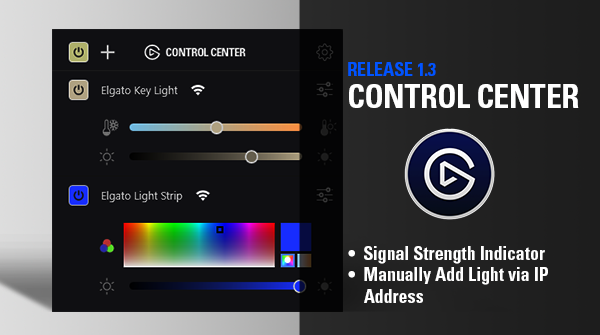 You can download Control Center 1.3 by clicking on the link below.
Windows
What's new in Control Center 1.3?
This update gives you the tools you need to set up and optimize your lighting accessories.
🆕 Signal Strength Indicator
With this update, Control Center will indicate the Wi-Fi connection strength between your lighting accessory and Wi-Fi router.
Many things interfere with a Wi-Fi signal, such as other Wi-Fi networks, walls, furniture, and other structures. These can cause your lights to react slowly or not at all. Now, with this indicator, you can find the sweet spot to guarantee a strong connection with your Wi-Fi router.
Learn more about the Wi-Fi signal indicator.
To see the signal strength, your light may require a firmware update.
Learn how to update your light firmware.
🆕 Manually Add Light via IP Address
You can now manually enter your light's IP address to pair it with Control Center.
This is useful when a light is already connected to the network but Control Center can not automatically find it, or if pairing fails midway through the process and your light is still connected to your network.
Find your light's IP address in your router's dashboard.
Enter the address in Control Center.
That's it – start controlling your light.
Learn more about manually adding your light via IP address.
🛠 Bug fixes and performance improvements
- Improved the reliability of pairing new lights with certain Intel Wi-Fi adapters.
- Resolved an issue where brightness and color temperature sliders were permanently linked after pressing a certain key combination.