Here are the changes in Wave Link 1.5.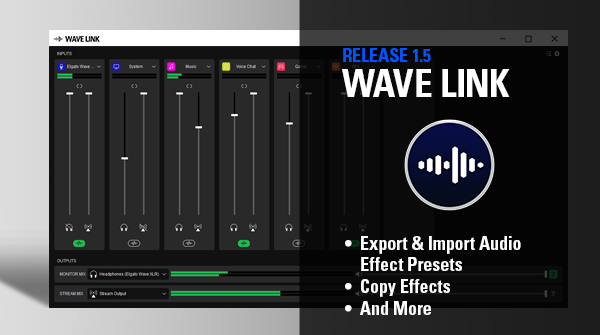 You can download Elgato Wave link 1.5 by clicking on the link below.
Windows
macOS
What's new in Wave Link 1.5?
🆕 Export & Import Audio Effect Presets
This update adds the ability to easily share audio effect presets.
Find the perfect EQ tune or noise gate level, then share it with your friends and fellow creators.
Moving to a new computer or want to back up your setting? Save your audio effect presets to set up again in minutes.
Audio effect settings cannot be shared between Windows and Mac.
Learn more about using sharing Audio Effect settings.
🆕 Copy Effects
Add audio effects to multiple channels quickly and easily by using the new drag-and-drop functionality or tried and true copy-paste. All settings are carried over.
🆕 Clipguard Indicator (Wave XLR)
This update includes firmware version 1.3 for Wave XLR, which adds Clipguard Indicator.
With Clipguard enabled and the Clipguard Indicator on, the control dial LEDs will shine orange in an anti-clockwise direction to indicate how hard Clipguard is working to tame your voice.
If the LEDs are excessively or consistently shining orange, try turning down Gain by a few decibels. Your viewers and Wave XLR will thank you.
Learn how to update Wave XLR firmware.
🆕 Low Impedance Mode (Wave XLR)
This update with the new firmware version 1.3 also adds Low Impedance Mode.
This mode changes the impedance of the headphone output for use with IEM (in-ear monitors) or other sensitive headphones, which reduces unwanted noise.

Learn how to update Wave XLR firmware.
🆕 Native Apple Silicon (M1) Support
It feels snappier, right? With this update, Wave Link is a native Apple Silicon binary.

🛠 Bug fixes and Performance Improvements
- Solved an issue where settings would mysteriously reset.
- Resolved an issue where device firmware updates would freeze.
- Fixed an issue where audio would not work after waking Windows from sleep.