Here are the changes in 4K Capture Utility 1.7.6.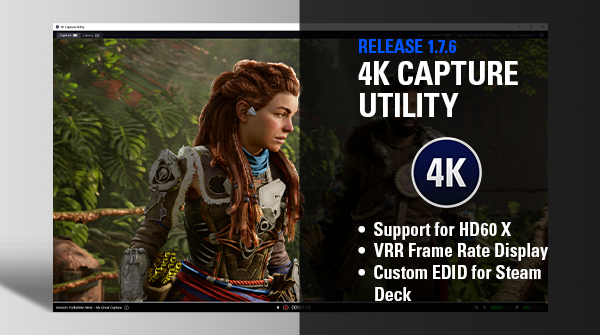 You can download 4K Capture Utility 1.7.6 by clicking on the link below.
Windows
Find hardware drivers here.
What's new in 4K Capture Utility 1.7.6?
🆕 Support for Game Capture HD60 X
With HD60 X, capture PS5 or Xbox gameplay like a pro. Play high-fidelity games as intended with VRR support and up to 4K60 HDR10 passthrough.
Use your favorite broadcast app a
nd create high-resolution 4K30 or 1080p60 HDR10 content for audiences on
any video platform.
No subscriptions. Zero limitations.
🎥 Premium Capture: stunning 4K30 or 1080p60 HDR10 quality.
📺 Powerful Passthrough: 4K60, 1440p120, 1080p120, 1080p240, HDR10, VRR.
⏺️ No Limitations: zero watermarks, time limits, or subscriptions.
📱 Use Any App: OBS, Streamlabs, Vmix, Zoom, Microsoft Teams, and more.
⤴️ Stream to Any Platform: YouTube, Twitch, Facebook Gaming, etc.
🌈 Tonemapping: Play in HDR while capturing in SDR.
↔️ Flashback Recording: slide back in time to capture gameplay retroactively.
〰️ Ultra-low Latency: sub 100ms for seamless audio/video syncing.
🛠️ Plug and Play: driverless setup on Windows and Mac.
⌨️ Works with Stream Deck: trigger Flashback Recordings, snap screenshots, and more.
Check out Game Capture HD60 X.
ICYMI - Sony announced that VRR support will be coming to PlayStation 5. Read the blog post.
🆕 VRR Frame Rate display
See frame rates vary on the fly! 4KCU now displays the source frame rate in real-time.
🆕 Custom EDID for Stream Deck
We've bundled new EDIDs for using Stream Deck with 4KCU.
🛠️ Other changes
General under-the-hood bug fixes and performance improvements.
New firmware for HD60 S+ resolves an issue where the color range setting could not be changed.