Release Date: 9 May 2023
Here are the changes in Stream Deck 6.2.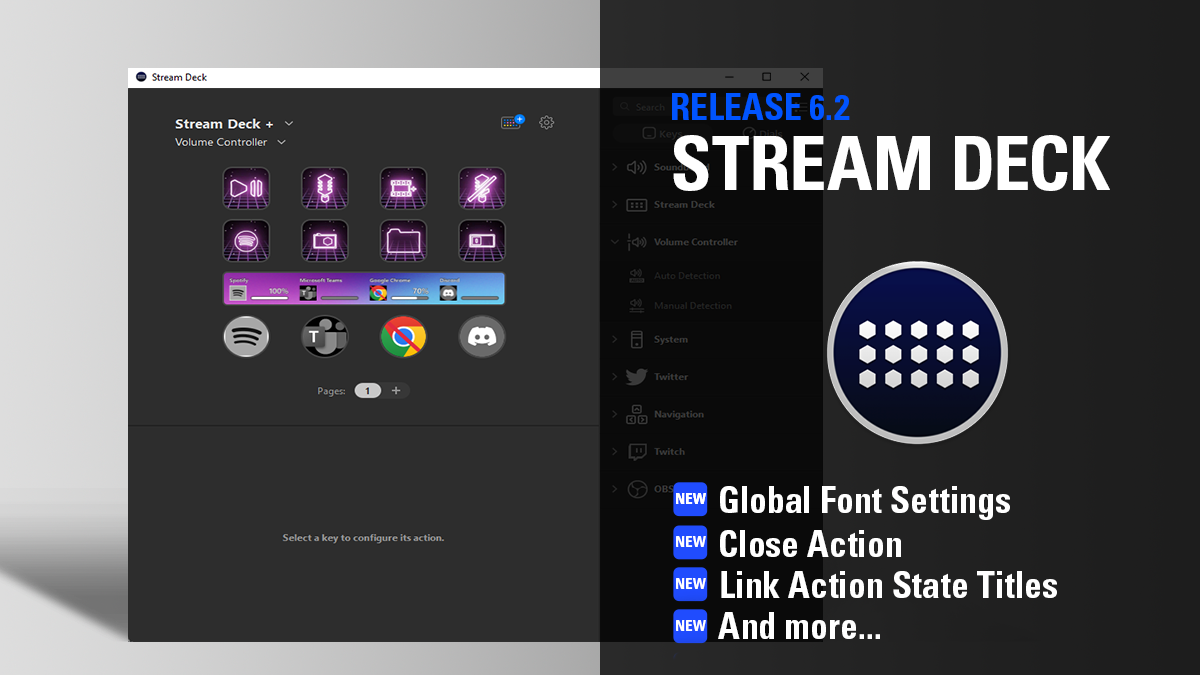 You can download Stream Deck 6.2 by clicking on the links below.
macOS
Windows
What's new in Stream Deck 6.2?
⌨️ Global Font Settings
With tens, hundreds, or even thousands of keys with titles, it can be tedious to change their fonts. We've added new Global Font settings options to Preferences in the Stream Deck app, so you can change the look of all your key titles in one go.
*Note: Keys with custom font settings won't be affected.
Learn more about Global Font Settings.
🆕 Close Action
A new system action called Close closes any application with a key press — perfect for wrapping up your workday or stopping a running script.
Learn more about system actions.
🔗 Link Action State Titles
Enter the title text once! Actions with two toggle states have a new Link Title option. When you enter a title for the on-state, it will be copied to the off-state and vice versa.
Want to give each state a different title? Uncheck the Link Title option.
📁 Open Folders
The Open action could always open folders, but now it's easier than ever. Just use the new folder icon to open a folder. It's that easy.

🛠️ Performance improvements and bug Fixes
Resolved an issue with Arabic letters and emojis on key titles.
The correct version of Corsair iCUE is now shown in the preferences window.
Resolved a bug where updating a plugin would fail, leading to actions displaying a question mark.
Optimized the Volume Controller server to resolve excessive CPU usage.
Added a new Style tab to Preferences, where you will find the Multi Action Overlay and the new Global Font settings.