If you are using Elgato Game Capture HD for Windows, and receive error code 43, then it's possible that the USB connection of your particular unit has developed an unusual problem.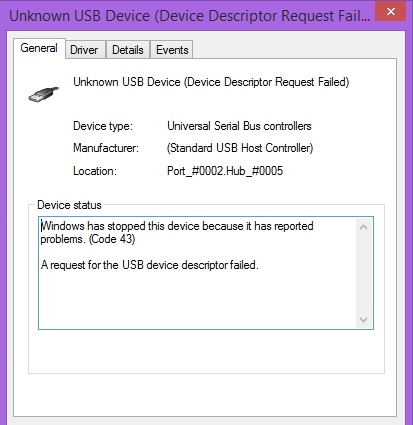 Here are some troubleshooting steps you can try to resolve this issue.


---
Adjust USB Connection
---


Try your Elgato Game Capture HD hardware with another USB cable, and other USB ports.


---
Restart the Computer
---


1) Unplug Elgato Game Capture HD hardware from the source, and USB port.

2) Remove other USB devices from your computer.

3) Turn off your computer. If you are using a laptop that has a removable battery, remove it.

4) Wait 5 minutes.

5) Turn on your computer, and try to use Elgato Game Capture HD again.


---
Use Windows Update
---


Make sure your Windows installation is up to date, by visiting this page:

http://windows.microsoft.com/en-us/windows/windows-update


---
Elgato Windows Reporter
---


If your problem still continues, then while Elgato Game Capture HD is connected to a USB port, please run the Elgato Windows Reporter utility:

How do I use the Elgato Windows Reporter Utility?

This utility collects some system information, and trace logs from Elgato software. It will give us more information about your issue.

After it's finished, a SupportInfo.zip file will appear on your Desktop. Please attach this ZIP file to us, via the Email Us form:

https://help.elgato.com/hc/en-us/requests/new

Also include a detailed description of your problem, along with the troubleshooting steps you've tried so far.