The Elgato Windows Reporter is a free utility that collects selected information from users of Elgato products.

It's compatible with Windows 7, Windows 8, Windows 10, and Windows 11.

Please Note: Elgato Windows Reporter is designed for Windows OS and cannot be used on mobile, macOS, or Linux.
---
How to use Elgato Windows Reporter
---
1) Download the latest version of Elgato Windows Reporter: https://gc-updates.elgato.com/windows/reporter/final/download.php.
2) Quit all of your Elgato Applications before the next step. That will help with the information collection.
3) The downloaded file is an executable with a name similar to ElgatoWindowsReporter_1.00.45.exe. Drag the file to your desktop and launch it.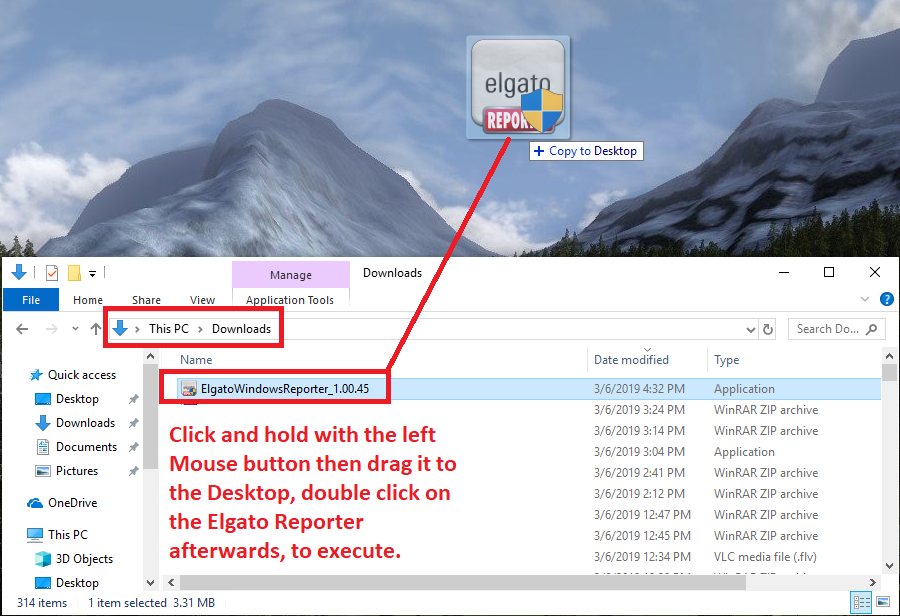 4) There will be an option to "Add Memory Dump" and "Add Software Crash Dump," but only use that if directed by Elgato Support. Click "Start" to collect your computer's configuration files.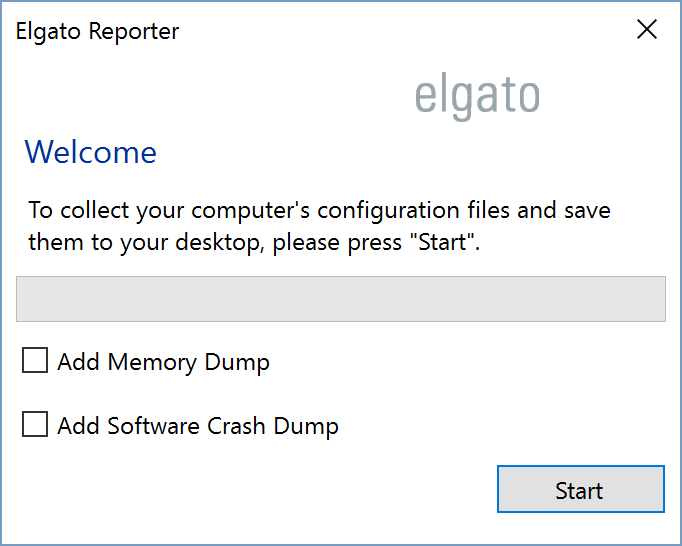 5) The process will take a couple of minutes, but once the Elgato Reporter Utility is finished, a SupportInfo.zip will appear on your desktop.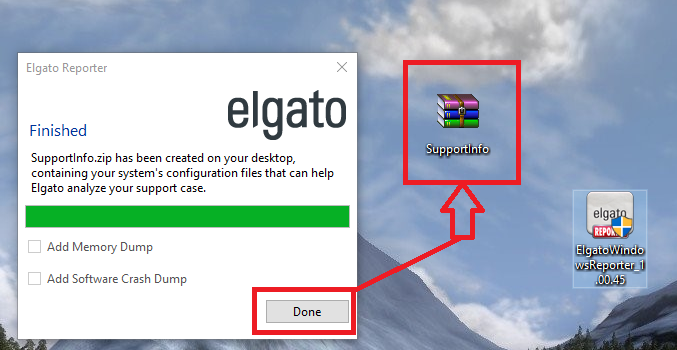 The icon for the Supportinfo.zip may be different depending on what software your computer uses (Windows, Winrar, 7zip, etc.).
The file will contain your system's configuration files, and it can help Elgato Support analyze your support case.
If the file doesn't appear, restart your PC and rerun the Elgato Windows Reporter tool.

Elgato Support will ask you to attach that SupportInfo.zip to an email and send it to them. Please do not send in this file unless Elgato Support requests you do so.
---
Contents of Elgato Windows Reporter
---
What follows are the files that are collected by Elgato Windows Reporter. They are put into a SupportInfo.zip file that customers can manually send to us via our Technical Support system.

Elgato

Settings, log files, and crash dumps (optional) of all Elgato Windows software
%appdata%\Elgato (all files and sub-folders)

OBS

Specific OBS Studio settings and log files
%appdata%\obs-studio (files)
%appdata%\obs-studio\logs
%appdata%\obs-studio\crashes

SLOBS

Specific Streamlabs OBS settings and log files %appdata%\slobs-client (files)
%appdata%\slobs-client\logs
%appdata%\slobs-client\SceneConfigs
%appdata%\slobs-client\SceneCollections

XSplit

XSplit log files
C:\ProgramData\SplitMediaLabs\XSplit\logs

System info

SystemInfo.nfo - (Windows system info to check for system components)
SpeedTest.log - (Upload speed measurement to check for speed limitations when streaming)
InstalledSystemUpdates.csv - (Installed Windows updates to check PC is up-to-date)
EventLog.evtx - (Application events of the last 7 days to detect application crashes)
Processes.log - (Currently running applications to detect applications that might affect overall system performance)
Applications.log / Applications64bit.log - (Installed applications to detect applications that are known to cause interferences with our apps)
SystemInfo.log - (same system info as in our log files to check for system components)
DXDiagInfo.txt - (DirectX related system info - dxdiag)
Performance.xml - (WinSAT data to detect performance limitations)
Devices.log - (Installed devices to detect driver problems)
Minidump.dmp (optional) - (Latest crash dump from C:\Windows\Minidump)
USBtree.txt - (Connected USB devices to detect problems related to USB controllers)