When Wave Gain Lock is turned on, applications cannot control the gain of the Wave microphone. This helps prevent issues with programs that use Automatic Gain Control. More on Automatic Gain Control here.
Wave Gain Lock was introduced in firmware 1.1.0 for the Elgato Wave:3 and Wave:1 microphones.
---
Enabling Wave Gain Lock
---
1) Open Wave Link software
2) Click on the Wave microphone channel to open the settings popover menu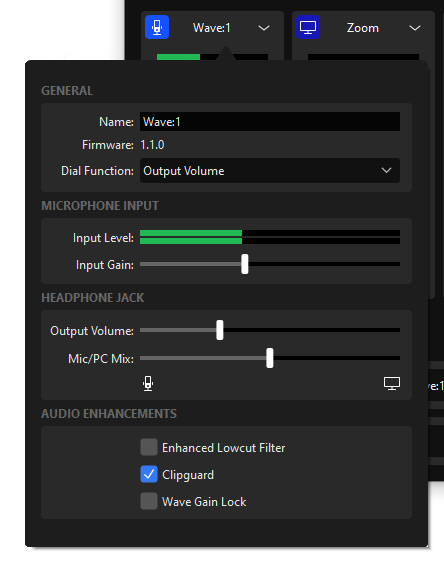 3) Set the desired gain by adjusting the dial on the Wave microphone or using the gain slider in the settings popover
4) Once the desired gain is set, check the Wave Gain Lock box
If the Wave Gain Lock setting is not available, make sure the Wave microphone firmware is on 1.1.0 or later.

The gain of the Wave microphone will now be locked to the level it was set to.
The only way to change the microphone gain is by using the control dial or by using Wave Link. 3rd party software is not able to control the gain level.
To allow 3rd party software control over the gain level of the Wave microphone, uncheck the Wave Gain Lock setting.