Firmware updates for Facecam deliver the latest image quality improvements and bug fixes.
Performing a firmware update can help in certain situations when experiencing issues with Facecam, such as settings not properly saving.
ℹ️ When performing a firmware update, it is critical that the update is not interrupted. While updating, please ensure the following:
⚠️ Do not disconnect Facecam.
⚠️ Do not close or quit Camera Hub.
⚠️ Do not shut down your computer
Elgato is working to quickly resolve known issues in the latest firmware release. Thank you for your patience!
---
Facecam Firmware Version Information
---
The newest firmware available for Facecam is version 4.09.
Changes in firmware 4.09
Requires Camera Hub 1.5.1 or newer.
Added MJPEG as a fallback video format. MJPEG requires less USB bandwidth and improves compatibility with programs that cannot handle uncompressed video.
Updated the ISP algorithm to reduce the occurrence of extremely bright pixels.
Changes in firmware 4.06
Improved compatibility with M1 Apple Silicon Macs and Microsoft Surface Books.
Enhanced colors.
Fine-tuned auto exposure with more granular EV control and more dynamic range.
Refined noise reduction with both noise reduction turned off and on.
Improved anti-flicker handling and added the option to completely disable anti-flicker.
Option to select bulk or isochronous USB transfer mode manually. Learn more.
Changes in firmware 2.52
Requires Camera Hub 1.1 or newer.
fixed the issue where the shutter speed would reset to 1/125s.
Changes in firmware 2.33
Fixed a bug where settings are not saved correctly.
---
Firmware Update Steps
---
1) Download and install the latest version of Camera Hub from http://www.elgato.com/downloads
2) Close any programs and applications that may use Facecam. For example OBS Studio, Xsplit, Zoom, Teams, Slack.
3) Open Camera Hub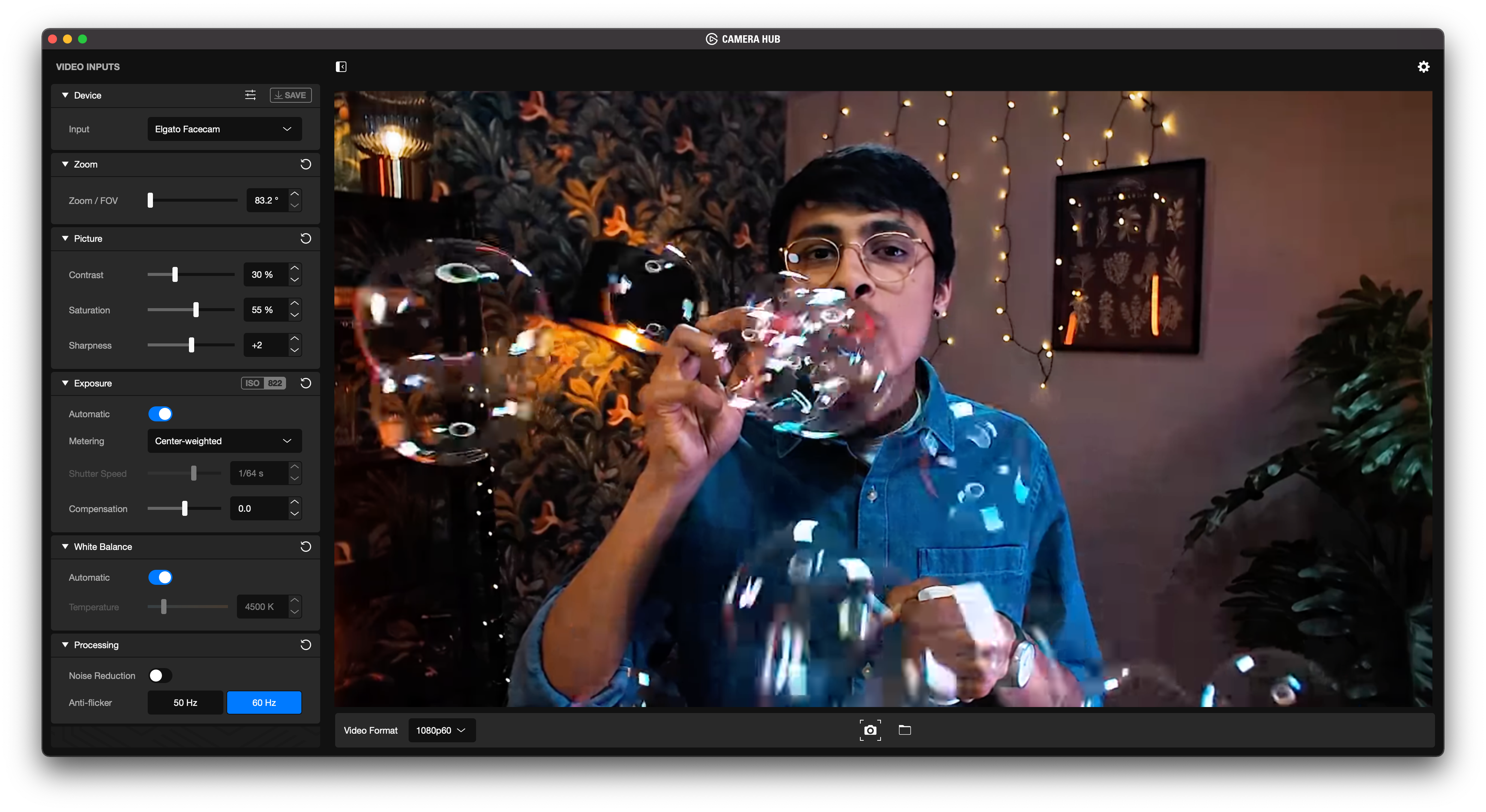 4) Press and hold the CTRL key (Windows) / Command Key (macOS) on your keyboard, and while doing so click on the Facecam settings button

5) Release the keyboard key, and click on "Update Firmware..."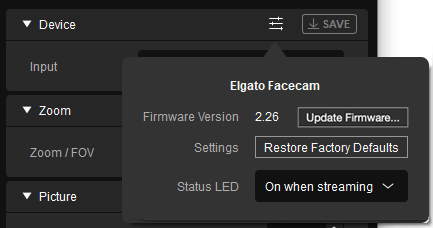 6) If a newer firmware update is available, begin the update.
⚠️ Do not disconnect Facecam, quit Camera Hub, or shut down your computer while the update is in progress.
7) Once the update is complete, Facecam will automatically restart and appear in Camera Hub.
If the firmware update fails to complete, please submit a ticket at http://e.lga.to/help.