Firmware updates for Facecam Pro deliver the latest image quality improvements and bug fixes.
Performing a firmware update can help in certain situations when experiencing issues with Facecam, such as settings not correctly saving.
ℹ️ When performing a firmware update, it is critical that the update is not interrupted. While updating, please ensure the following:
⚠️ Do not disconnect Facecam Pro.
⚠️ Do not close or quit Camera Hub.
⚠️ Do not shut down your computer
Elgato is working to quickly resolve known issues in the latest firmware release. Thank you for your patience!
---
Facecam Firmware Version Information
---
Changes in firmware 0.06.1725
Requires Camera Hub 1.5.2 or newer.
Improvements to overall color accuracy, in particular purple and red.
Improvements to the autofocus algorithm at certain distances.
Shutter speed and ISO values are now correctly set when using Auto Exposure with 50Hz anti-flicker.
---
Firmware Update Steps
---
1) Download and install the latest version of Camera Hub from http://www.elgato.com/downloads
2) Close any programs and applications that may use Facecam. For example, OBS Studio, Xsplit, Zoom, Teams, and Slack.
3) Open Camera Hub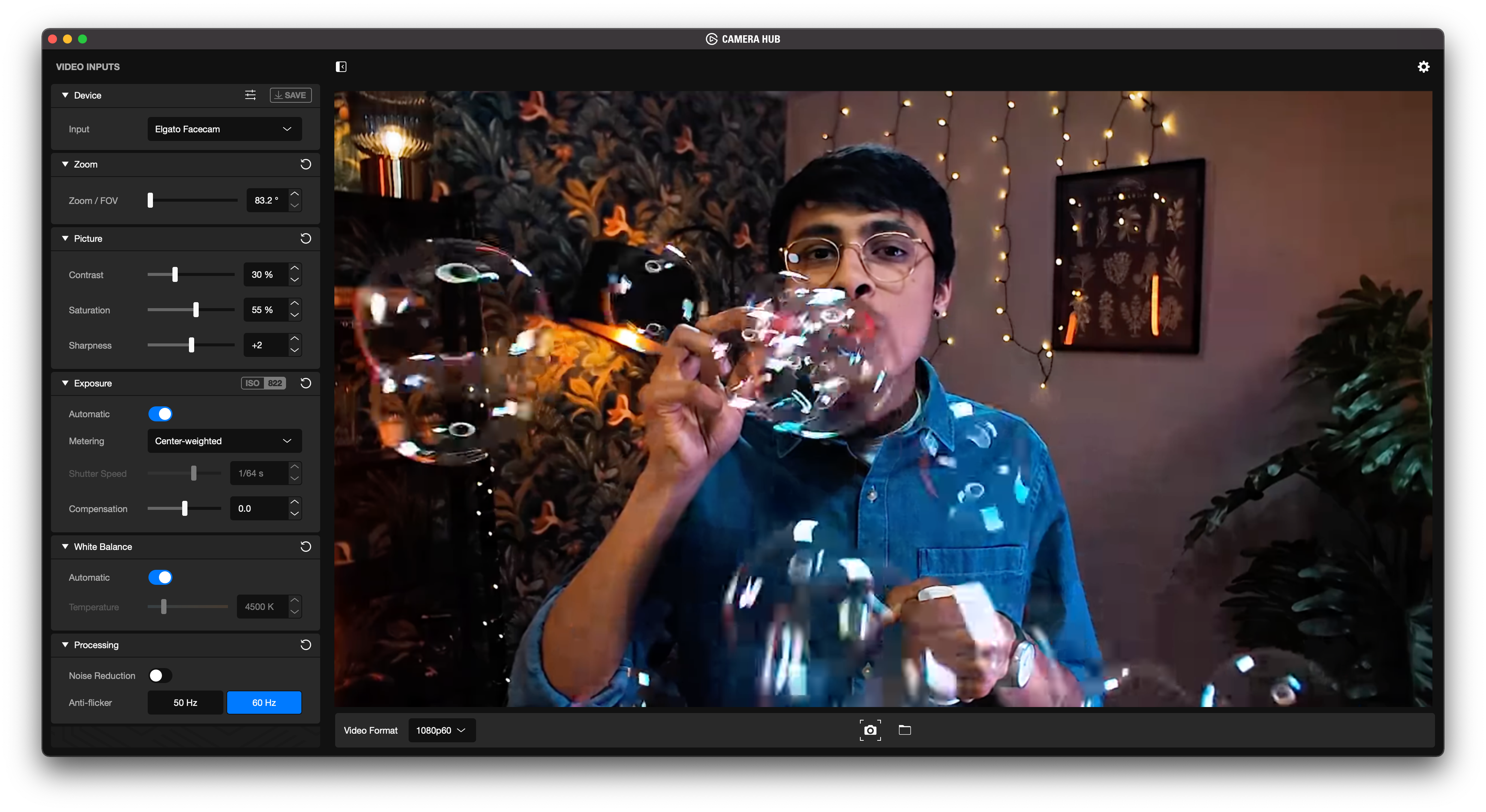 4) Press and hold the CTRL key (Windows) / Command Key (macOS) on your keyboard, and while doing so click on the Facecam settings button

5) Release the keyboard key, and click on "Update Firmware..."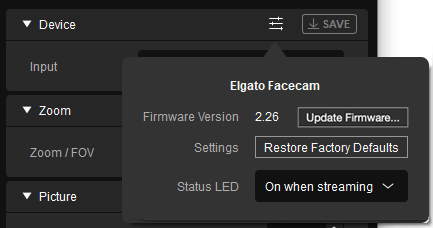 6) If a newer firmware update is available, begin the update.
⚠️ Do not disconnect Facecam Pro, quit Camera Hub, or shut down your computer while the update is in progress.
7) Once the update is complete, Facecam will automatically restart and appear in Camera Hub.
If the firmware update fails to complete, please submit a ticket at http://e.lga.to/help.