What are 'Hardware' and 'Software' Video Processing Options on macOS?
I have no WiFi Available, Can I Connect with a USB Cable?
Not connecting to a computer via WiFi
Fixing Issues With Video Quality
Resolving Issues with Video Performance
Video shows in 4:3 or square aspect ratio
Why is EpocCam Incompatible with FaceTime and Photobooth on macOS 10.14 Mojave and 10.15 Catalina?
EpocCam Viewer on Windows shows error "Couldn't bind moniker to filter object! hr=0x80070005"
If EpocCam is not working as expected, please try these general troubleshooting steps first.
---
Windows
---
1) Open the Windows Task Manager Services tab to make sure both Bonjour-service and EpocCamService are running.
2) If not, start them by right clicking and choose "Start Service".
3) If you cannot see Bonjour-service or EpocCamService, please (re)install the required Windows drivers.
---
macOS
---
1) Open Activity Monitor
2) Highlight "EpocCamDeamon", and choose the "X" icon at the top left corner of the window to Force Quit it.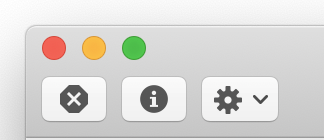 3) Try to connect to EpocCam again.